Homelessness
Homelessness is the most acute and severe form of economic deprivation. It is devastating to families, hindering the ability of adults to find work, and harmful to the stability children need to learn and thrive.
  IMPENDING HOMELESSNESS CASES – click image to enlarge: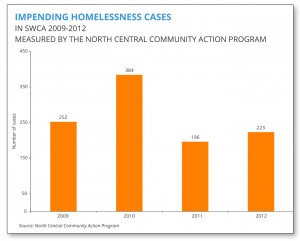 SHARE OF STUDENT BODY CLASSIFIED AS HOMELESS – click image to enlarge: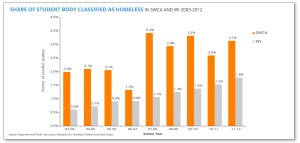 Vital Signs covers the south Wood County area of Wisconsin, including the municipalities of: Biron; Cranmoor; Grand Rapids; Nekoosa; Pittsville; Port Edwards – town and village; Rome – Adams County; Rudolph – town and village; Saratoga; Seneca; Sigel; Vesper; Wisconsin Rapids.
---
Additional information and local stories can be found in the complete Vital Signs 2013 report; download here.

For additional information, contact:
Incourage | hello@incouragecf.org | 715.423.3863