Unemployment
The unemployment rate is often used as a primary measure of economic health because it answers the fundamental question: can workers find a job? In Wood County, the unemployment rate tracks closely with the unemployment rate in the state.
  UNEMPLOYMENT RATE IN WOOD COUNTY AND WISCONSIN – click image to enlarge: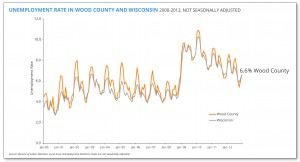 Vital Signs covers the south Wood County area of Wisconsin, including the municipalities of: Biron; Cranmoor; Grand Rapids; Nekoosa; Pittsville; Port Edwards – town and village; Rome – Adams County; Rudolph – town and village; Saratoga; Seneca; Sigel; Vesper; Wisconsin Rapids.
---
Additional information and local stories can be found in the complete Vital Signs 2013 report; download here.

For additional information, contact:
Incourage | hello@incouragecf.org | 715.423.3863