Sherry Glenzer-Meyer
Our Team
Finance Coordinator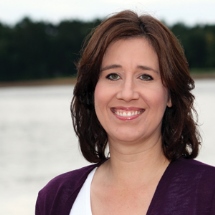 What is one thing you love about working at Incourage?
I love coming to work at Incourage because it gives me hope for the future of Wisconsin Rapids. Incourage gives me hope through the Tribune Building project. This project is going to give our town a wonderful community asset that even people from outside our area will want to come and visit. Incourage also gives me hope through its annual Community Picnic. It is not just the "haves" or the "have-nots." It's our whole community coming together as one. I feel that Incourage is helping bring back a community spirit to our area and I am lucky enough to be a part of it.
What is your favorite place in the community and why?
I think one of my favorite places in the community is Lake Wazeecha. When I was younger, before I had my license, I would ride my bike with my friends, seven miles one way, just to hang out at the beach. We always watched the State Water Ski Show, too.
Now that I'm an adult, I love the walking trail around the lake. I can walk with friends and get a good gab session in. (Oh yeah, and workout.) It's also a great walk with my kids when they want to go Pokemon hunting. My husband loves the disc golf course there. As a family, we always have to go miniature golfing there a couple of times a summer.
What would be your dream job, if you didn't work at Incourage?
My dream job would be as an archaeologist in Egypt doing a dig by the Pyramids.
What is your favorite movie of all time?
The original Star Wars trilogy
What is your favorite season or holiday?
Halloween
What is your favorite quote or riddle?
I found this Navajo song when I was in Junior High. Whenever I see a rainbow in the sky, I feel hope, so this was always fitting for me: "Walk on a rainbow trail; walk on a trail of song, and all about you will be beauty. There is a way out of every dark mist, over a rainbow trail."
715-818-6186