Putting the Force Back into Workforce
The future doesn't come with instructions—but a vibrant future is something we're working towards - focusing on the needs of employers and workers to help create a thriving community that works well for all.
About Workforce Central
Incourage's Workforce Central is comprised of three leadership groups: Funders Collaborative, Service Provider Network, and Manufacturing Partnership. We bring together philanthropy, employers, government, and educational and service providers as we work to achieve our ultimate outcome:
Everyone in south Wood County who wants to work has ample opportunities to prepare for and secure a family-sustaining job and advance in a career over time. Current and prospective workers conveniently access a comprehensive, seamless array of education, training, and support services, provided by a strong partnership of employers, educators, and service providers that takes shared responsibility for a healthy workforce, economy, and job market. Adopted February 2010
Workforce Central has become a model for communities across the country and for the National Fund for Workforce Solutions (NFWS). In 2010, Workforce Central became the first rural Social Innovation Fund sub-grantee through the National Fund and the Corporation for National and Community Service. In 2011, the collaboration won the NFWS Chairman's Award, and in 2012, the Vice Chairman's Award.
Workforce Driver
One of the most significant workforce drivers is the demographic we call "Silver Tsunami" that is occurring across the country and clearly impacting the manufacturing sector of our region. We are preparing for this shift with specific strategies to ensure we have skilled workers to fill these family-sustaining career opportunities.

Workforce Central Strategies
Peer to peer leadership support
Training solutions
Pipeline solutions
Sector awareness and promotion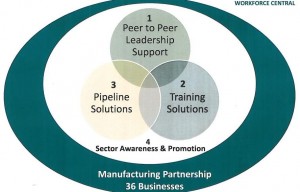 Workforce Central Funders
Incourage Community Foundation
Corenso North America
ERCO Worldwide
Mariani Packing Co., Inc. (formerly Urban Processing LLC)
North Central Wisconsin Workforce Development Board
Ocean Spray Cranberries Inc.
Ocean Spray Cranberries, Wisconsin Rapids Plant
R. C. Charitable Foundation
Riverview Health Care Foundation
Solarus
WoodTrust/Bell Family Charitable Foundation
Gerard & Doris Veneman Family Fund
Daniel and Cheryl Urban Family
NewPage Corporation
Alexander Charitable Foundation
Paper City Savings Charitable Foundation
10 Incourage Community Foundation donor advised fund holders
Initial investments have focused on industry engagement, capacity building and training in the manufacturing, healthcare, Information Technology industry sectors as well as training in basic education, digital literacy, and job search skills required by today's employers.
Publications
How to participate
Donate/match funds:
Email [email protected]
Or Get Involved:
Service Providers email [email protected]
Businesses email [email protected]
Workers email [email protected]