Denis Follows his Heart
Denis Kester had a dilemma.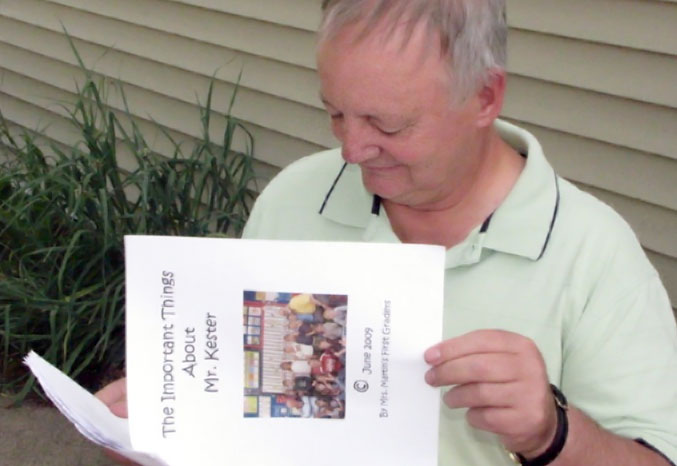 As a graduate of the Advanced Leadership Network, he had become involved with a project that would help improve local recreational trails. But his heart wasn't in it.
He explained, "I changed directions and stepped away from that project because I wanted to do something that involved children."
He didn't have to look far, with a school only blocks from his church. "Everything just fell into place," he remembered.
Using communication and leadership skills developed in Advanced Leadership, Denis presented his ideas and motivated others—at his church and the school—to get involved.
"This new project came about because of my participation in Advanced Leadership," Denis explained. "I wanted our church to be a resource that the school would call upon or refer to parents who need assistance."
This led to a partnership between Washington School and Faith Reformed Church. Denis helped with Kim Martin's first grade class, meeting with students in her classroom several times each week. Denis and fellow church member, Bob Van Dyken, listened to students read and helped with spelling, writing, drawing, and solving math problems.
Kim emphasized the difference their presence made. "They showed love, kindness, sincere concern, and playfulness as academic tasks were sprinkled into the recipe. They engaged the children in meaningful conversation bringing out happiness and confidence—huge contributors to academic success."
The project caught the attention of church members at St. John's Lutheran Church in Kellner. Volunteers there partnered with Grant Elementary School.
"They have been a great group of folks to work with and we have been blessed to have them support our school," noted Grant School Principal Tim Bruns.
As Denis continues his community outreach efforts, he noted the strong support system that the leadership group provides. "I get encouragement and support from the other advanced leadership members, each time I report on my activities."
---