Education
WHY IT MATTERS: School is often the first place people learn about their passions and talents, and how to be good citizens and neighbors. Together, educators, parents and the community help prepare our youngest residents for their future work and participation in south Wood County.
LEARN ABOUT: K-12 Quality | Post Graduation Plans | Educational Attainment
( Click to expand )
»
---
SWCA public school districts serve over 7,000 students and they do so admirably. State standardized test scores show that local students are getting a better education than the state average in nearly every grade level and every subject – particularly in science. Public school graduation rates are excellent, and about 75% of graduating seniors intend to go to college. Another 6% intend to enter the job market. Notably, the Wisconsin Rapids School District earned a 74 on its DPI "district report card," which is significantly better than the state average.
In addition to quality public schools, SWCA also has quality private schools with a total enrollment of 650 students and composite ACT scores above 23. This is slightly above the state composite of 22.2, which is excellent performance compared to national results; Wisconsin composite scores are second highest in the U.S.
Turning to adults, the distribution of education levels shows us a few things about SWCA. First, at the bottom tiers of education, our population is well-educated with relatively few adults lacking a high school degree. We have more adults with two year college degrees than the state and nation as well. But at the four year and graduate degree level, SWCA lags behind the state and the nation. Over the next decades, two and four year and graduate degrees will all be important assets for securing strong economic development for our region. Attention to building skills and credentials at all levels of the educational distribution may provide one key for economic success.
What do you think makes our K-12 schools strong? What could make them stronger as they seek to prepare our young people for today's economy? How can you help?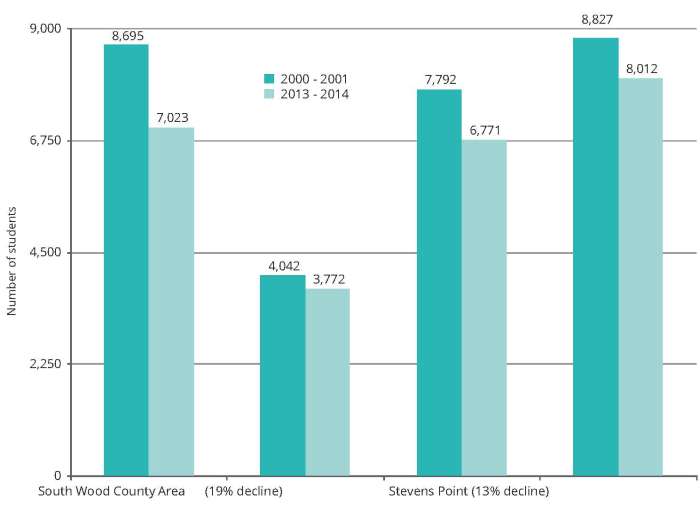 K - 12 Enrollment in SWCA, Marshfield, Stevens Point, and Wausau
Click here to see complete data file and sources >>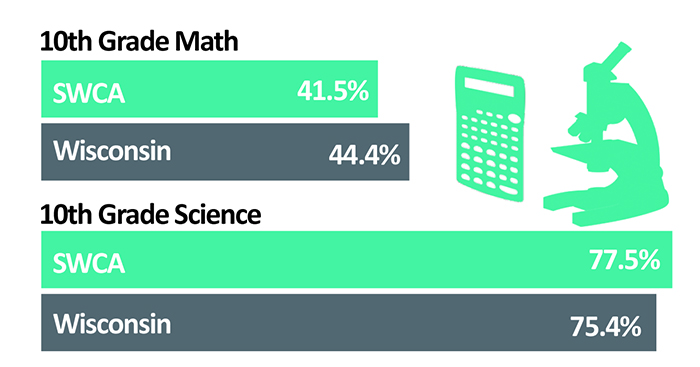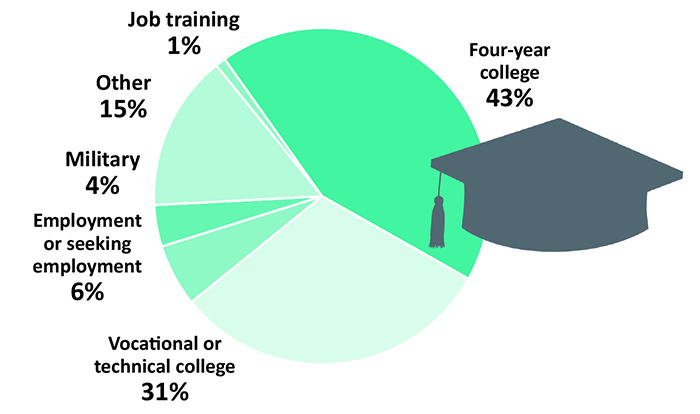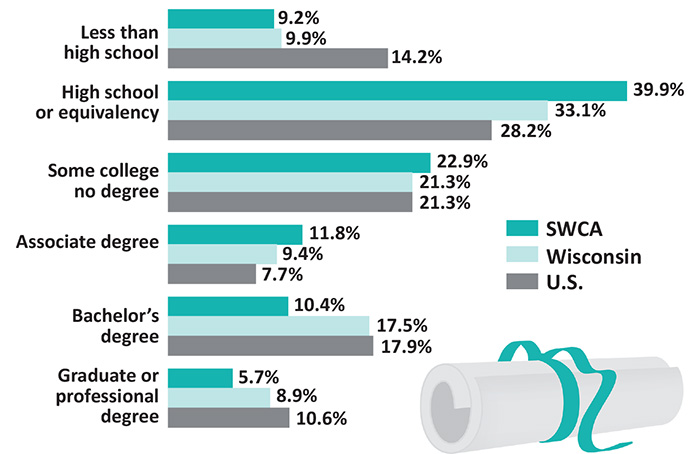 Return to Vital Signs main page
Vital Signs covers the south Wood County area of Wisconsin, including the municipalities of: Biron; Cranmoor; Grand Rapids; Nekoosa; Pittsville; Town of Port Edwards; Village of Port Edwards; Town of Rudolph; Village of Rudolph; Saratoga; Seneca; Sigel; Vesper; Wisconsin Rapids; and Rome in Adams County.
For additional information, contact:
Incourage | [email protected] | 715.423.3863