Events
Stay connected to Incourage - mark your calendar!
Incourage Events
Incourage Events | Summer 2021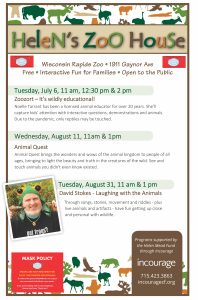 Please join us at Helen's Zoo House at the Wisconsin Rapids City Zoo. Programs supported by the Helen Mead Fund through Incourage.
Summer Zoo House Programs:

July 6, 11:00am, 12:30pm, 2:00pm, Zoozort
August 11, 11:00am, 1:00pm, Animal Quest
August 31, 11:00am, 1:00pm, David Stokes
Check back for new Incourage and Tribune Building Project events.
You can also find the latest happenings with the Tribune Building Project here.