Resident Profile - Diana Buss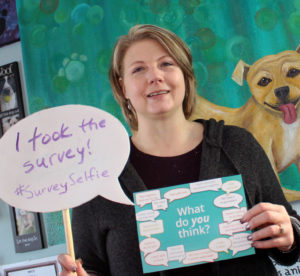 Growing up in this community, Diana Buss witnessed how it has changed and grown over the years.
Now, as a successful business owner and community volunteer, she's working to make positive change for – and with – others.
Diana owns the local pet boutique, BowWow Meow. She lives in Wisconsin Rapids with her husband, Shannon and son, Michael. She serves as the Board President for South Wood County Humane Society and is active in the Heart of Wisconsin Chamber of Commerce.
Over the past couple months, Diana has helped get the word out about Incourage's Community Survey. "I see the power of the survey," she explained. "There has been a lot of change in our community. I hope people took time to take the survey and share their opinions to help make positive changes. I look forward to seeing the community come together to help solve the problems we're facing."
Diana has owned BowWow Meow since August 2014 and noted, "I've had tremendous support from the community. There are lots of pet owners here. The response has been great and I continue to see growth."
At the Humane Society, she helps plan and organize major fundraisers, including: Souper Snow Sculpture Spectacular, 5K9 Walk/Run, Iron Chef, and the Vaccine & Microchip Clinic, as well as volunteering at the shelter. In addition, a family connection with the UC-Davis Koret Shelter Medicine group helped lead to a free Humane Society evaluation and follow-up improvements there.
Diana believes in change for the better, but she knows it doesn't happen alone.
"There's so much more we can do if we work together," Diana emphasized. "My hope is that if people participated in the survey, they'd get involved to make a difference. It's easy to sit around and say things are bad. What is needed is for people to come together and direct that energy into finding solutions and making positive changes."
The Community Survey closed on January 15. Survey results will be revealed at a public event on Tuesday, March 13 at the Performing Arts Center of Wisconsin Rapids. Mark your calendar!