This Is Our Home
Jamie and Kuba Jestadt are raising their two daughters in a place they love. The young family moved to Wisconsin Rapids five years ago and enjoys discovering new community treasures every day. They value the quiet, country feeling of the area, with the benefit of being centrally located.
"We love how the community is constantly changing and improving to meet the needs of its residents," Jamie said. "We are excited about the new YMCA and Tribune Building project, and what they will bring for families in the community."
For the Jestadt family, there is no question – they have found their home.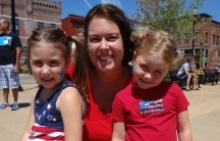 Return to Vital Signs > People page