Monarchs & Tribune Building: Amazing Transformations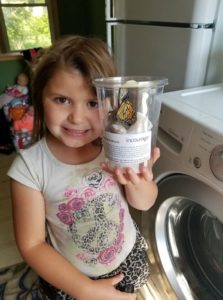 Grassroots fundraisers have been an important part of the Tribune Building Project. Recently, resident Richard Breen paired his knowledge and love of monarchs with his excitement for the Tribune Building to create a unique fundraising effort fun for all ages.
"I've enjoyed insects of all kinds since I was a kid. I wanted to share my experience with raising monarchs with other people," Richard explained, adding, "and then we could make money for the Tribune Building too."
Community members purchased monarch chrysalises, taking them home to await their monarch's emergence. Incourage sold more than 1,200 chrysalises, raising over $6,000 for the Tribune Building.
"The response from the community has been fantastic," said Sherry Glenzer-Meyer from Incourage. "There have been a lot of people who purchased chrysalises who were excited to learn about the monarch process, and also wanted to learn about Incourage and the Tribune Building Project.
According to Sherry, the fundraiser spanned generations. "We've had parents tell us that kids were so excited they wanted to go to the library and learn more about it. And we've had people coming in to purchase chrysalises for their elderly parents so they could enjoy it."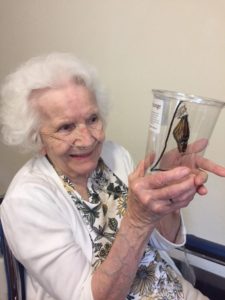 Richard also trained other community members to help out. Over a dozen community members and Incourage staff volunteered to rear thousands of caterpillars. "If it wouldn't have been for the community rearers, this project wouldn't have happened," Glenzer-Meyer acknowledged. "For Richard to do this alone would have just been impossible."
"I won't lie; it was a bit of work," acknowledged Chris Jarvis, one of the caterpillar rearers. "Caterpillars eat way more than you think. It was actually a lot of fun to watch. Every day, the first thing my husband and I did was peek in to see who had hatched and who had turned into a chrysalis."
Chris has a special love for monarchs as her husband, Bill, started Marley's Mile, a butterfly habitat along Lake Wazeecha. He got the project going with the help of an Incourage What If grant.
"With that grant from Incourage we were able to purchase a lot of the seed and signage that you see at Marley's Mile to help people understand what the project was, and also try to garner some community involvement. That led to a lot of volunteers," Chris explained.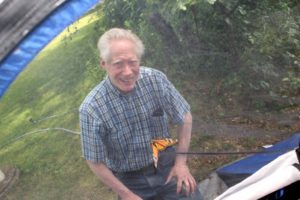 This fundraiser has been special for Richard, because he sees a connection between the monarchs and the Tribune Building.
"When we look at the chrysalis, we have no idea what the result's going to be. And when we started with the Tribune Building we had no idea what it was going to look like. But we came together as a community to support that process. Working together, we set priorities for what we would like the building to be," Richard said.
"The results are amazing; just like a chrysalis to a monarch … totally amazing!"
Visit YouTube.com/IncourageCF for a video of this story.