A Visionary Birthday Gift
Fri. Dec 14, 2018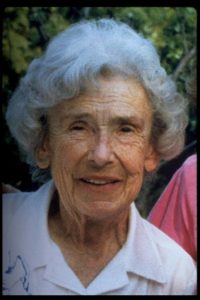 December 14 is a special day for Incourage. Today we remember our founder, Virginia Brazeau, on her birthday.
Virginia, along with the Richard S. Brazeau Family Foundation, was instrumental in establishing Incourage in 1994. That included a visionary gift, "100-Year Funds," which very deliberately ensures our longevity. Since 1994, and every year through 2093, on December 14, we create a new $1,000 fund, with no distributions being made until there are 100 funds.
Virginia's vision of philanthropy was philanthropy by the people, for the people, with the people – growing a sense of shared ownership and responsibility for the greater good and changing needs of our community.
Today, nearly 25 years later, Incourage's mission continues to honor Virginia's intentions, with a focus on increasing local ownership and community-led decision making, working with residents to create opportunity that enables our community and all residents to reach their full potential.
Thank you, Virginia, for your vision, your generosity and your courage. Happy birthday.
---