Incourage Receives $50,000 Grant
Wed. Jun 22, 2016
As released by Wisconsin Rapids City Times June 22, 2016
Incourage Receives $50,000 Grant
WISCONSIN RAPIDS, WI. June 22, 2016 – Bader Philanthropies, Inc., one of southeastern Wisconsin's top five foundations, recently announced its Board of Directors has approved a $50,000 grant to Incourage to support a needs mapping project for older adults in south Wood County, including Wisconsin Rapids, Wis.
The grant is a part of $1,304,095 in funding in 2016 to various Alzheimer's and Aging-related organizations throughout the state. With an emphasis on enhancing the quality of life for older adults in rural communities, the new grants will help create, expand, and bolster a variety of efforts to address various challenges that greatly improve the quality of life of Wisconsin's aging community.
"With the rapidly increasing number of older adults, we have been hearing from communities across Wisconsin on how to address the various health, wellness, and social needs of Wisconsin's aging community," said Helen Ramon, program officer for Alzheimer's and Aging at Bader Philanthropies. "We, at Bader Philanthropies, are continually striving to keep our home state a national leader in how we serve older adults, and we're impressed by the dedication of individuals and communities that share that vision for an elder-friendly Wisconsin."
Bader Philanthropies' approach to addressing Wisconsin's aging community involves working with organizations to assure that programs and resources are available to meet the increased demand for services. The following grant is one of the latest examples of Helen Bader's lasting legacy to find solutions by connecting partners, building consensus, and creating momentum on crucial issues to help older Wisconsinites live fuller, healthier lives.
###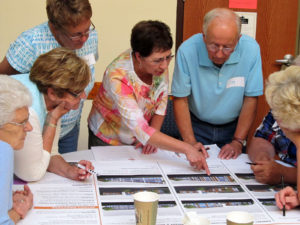 Residents work together to determine the future use of the Tribune Building on 1st Ave. South. It was created by community input, and now it serves as a community accelerator in areas like economic growth and opportunity, learning and creativity. (Photo courtesy of Incourage)
---