Interest for The School at Altenburg's Farm grows at strawberry celebration
Fri. Jun 23, 2017
As released by Wisconsin Rapids Daily Tribune – June 22, 2017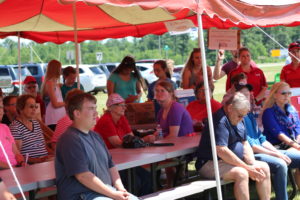 GRAND RAPIDS – Harold Altenburg once dreamed his farm would someday be a place where students could visit, work and learn more about agriculture. Today, Altenburg is preparing for retirement, his farm is called The School at Altenburg's Farm. Six people make up a board of directors for the nonprofit farm school, and a farm director has been chosen to work on the farm. Altenburg is still involved, acting on the advisory committee.
At a meeting there this week, Brad Kremer, a farmer in the Pittsville and Vesper area who serves as the president of the board, introduced the team.
Kremer said after months of work, the group set up the farm as a nonprofit organization, created bylaws, elected officers and hired Greg Gerdes to be the farm director. The group also has plans to expand on existing partnerships with local schools and provide learning opportunities to communities regardless of age.
Tracy Neve is an instructional technology coach and mentor for the Auburndale School District and serves on the farm school's board to lead the education committee.
"(We're) trying to develop things that can go back to the students at school, as well as community events," Neve said. "It's not just the students coming out to the farm and learning about agriculture, but how about our community? What else can we do?"
Neve said the group already has plans for learning events in August to discuss pesticides, herbicides and GMOs.
"We also have been looking into bringing out some gardening classes, so that we can learn more about that as a community for young and old alike," Neve said.
"(Agriculture) is something that interested me my whole life," Reinicke said. "I've been into tractors since I've been a little kid, and that's a big part of what interested me. And I like being outside to work. I'm hoping to go to a four-year school and study something in agriculture."
Dan Smith of the Wisconsin Department of Agriculture, Trade and Consumer Protection said Altenburg's vision fits with the organization's values, focusing on children, communities, agriculture and natural resources. Smith said far fewer people are involved in agriculture now than ever before, and that's what makes agriculture education important.
"To lose a place is to lose our direction, and that's why I really appreciate the opportunity to work on this project," Smith said. "We will continue to help in any way that we can from the Department of Agriculture. We would like to see these types of projects pop up all over the state of Wisconsin."
Altenburg told the group his idol is Bart Starr, who did great things on the football field, but even greater things in the community, such as his program for at-risk youth in Wisconsin. Altenburg hopes providing work and educational opportunities at the farm can help prevent youth from making bad choices.
"We have jails full. We need to do more to prevent (people) from making wrong decisions. I hope this will help."
For more information, visit altenburgsfarm.com or find The School at Altenburg's Farm on Facebook.
Contact reporter Caitlin Shuda: 715-424-7307 or [email protected]; on Twitter @CaitlinShuda
---