Solarus Contributes to the Tribune Building Project
Tue. May 19, 2015
As released by Solarus May 18, 2015

Solarus Contributes to the Tribune Building Project
Supporting our communities' efforts in working together to plan a shared future
Wisconsin Rapids, Wis. –Solarus is very excited to make a contribution of $5,000 along with a matching $5,000 from CoBank's Sharing Success matching grant program to the Tribune Building Project for a total contribution of $10,000.
The Tribune Building Project (TribuneBuilding.org) began in Fall 2013, following Incourage's purchase of the historic downtown Wisconsin Rapids landmark. Purchased with the intent that residents would determine the building's future use, to date, more than 750 residents have contributed over 5,000 hours to the process. Together, residents identified the following priorities for the Tribune: art studio, cafe/brewpub, creative workshop, culinary kitchen, flexible space, gallery, game room, meeting room, microbrewery, play area, recreational rental, rooftop lounge, social space, study room and a welcome center. The Tribune is expected to open in Fall 2016.
"We appreciate all the hard work, collaboration and transparency that our community has demonstrated in this process and we want to show our support for the efforts put forth to date and very much appreciate CoBank's partnering with Solarus and Incourage," said Solarus Chief Executive Office Douglas Wenzlaff.
CoBank's program matches donations to nonprofit organizations in communities that their customers serve.  "We continue to believe that the best way for CoBank to make a meaningful impact of corporate citizenship is to partner with our customers.  Sharing Success enables CoBank to leverage the local knowledge and expertise and provide assistance to causes that our customers care deeply about," said Bob Engel, CoBank's Chief Executive Officer.
"Solarus has been a leader in fostering economic growth potential in this community," said Kelly Ryan, president and CEO, Incourage. "Much like the forward-thinking investment Solarus made years ago, to establish a broadband infrastructure for business growth throughout the region, today's investment in the Tribune is another demonstration of their commitment to our community's economic potential. We sincerely appreciate Solarus' investment and partnership in our community's future."
This is the second consecutive year Solarus has received the CoBank Sharing Success grant.  Last year's recipient was Boys and Girls Club of Wisconsin Rapids area.
For more information contact Mike Meinel 715-421-8160.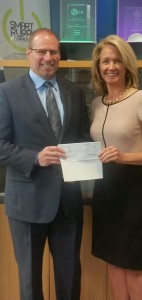 # # #
About Solarus
Solarus is headquartered in Wisconsin Rapids, Wisconsin, and offers local and long distance telephone, Internet and television service throughout North Central Wisconsin.  To learn more about Solarus, visit www.solarus.net, or www.facebook.com/Solarus.net
About CoBank
CoBank is a $98 billion cooperative bank serving vital industries across rural America. The bank provides loans, leases, export financing and other financial services to agribusinesses and rural power, water and communications providers in all 50 states. The bank also provides wholesale loans and other financial services to affiliated Farm Credit associations serving farmers, ranchers and other rural borrowers in 23 states around the country.
CoBank is a member of the Farm Credit System, a nationwide network of banks and retail lending associations chartered to support the borrowing needs of U.S. agriculture and the nation's rural economy.
Headquartered outside Denver, Colorado, CoBank serves customers from regional banking centers across the U.S. and also maintains an international representative office in Singapore. For more information about CoBank, visit the bank's web site at www.cobank.com.
About Incourage

Established in rural Wisconsin in 1994 to serve the changing needs of the south Wood County area, Incourage has become a nationally-recognized leader in place-based philanthropy and community development. Guided by values of equity, opportunity and shared stewardship, Incourage envisions a community that works well for all people. One physical manifestation of this vision is the Tribune, which demonstrates Incourage's resident-centered approach to growing a strong and inclusive local economy. To learn more, visit incouragecf.org.
---