State grant helps reawaken Wisconsin Rapids Tribune building
Mon. Aug 31, 2015
As released by Wisconsin Economic Development Corporation August 31, 2015
State grant helps reawaken Wisconsin Rapids Tribune building
Assistance from Wisconsin Economic Development Corporation will support renovation of historic riverfront property
MADISON, WI. August 31, 2015 – The Wisconsin Economic Development Corporation (WEDC) has awarded a $472,000 grant to the City of Wisconsin Rapids to help fund the renovation of the Tribune building site, centrally located in downtown Wisconsin Rapids along the Wisconsin River.
The 19,868-square-foot building facility built in 1960 originally housed the city's newspaper, the Wisconsin Rapids Daily Tribune, which vacated the property in January 2013. The building also previously housed WFHR AM 1320 and WWRW 103.3 FM radio stations over the years.
The property's new owner, Incourage Community Foundation, purchased the property with the intent that residents would decide its future use. From the beginning, this was about more than the building. It is a demonstration of a resident-centered process toward realizing Incourage's vision of a community that works well for all people. To date, more than 800 residents have invested more than 5,500 hours in public meetings.
Plans for the revitalized space include an art studio and classroom; brewpub and café with rooftop lounge; creative workshop/makerspace; culinary kitchen, youth spaces, meeting room, microbrewery, recreational rental shop, retail store for local goods and other public spaces. An adjacent underutilized parking lot and remnant greenspace will also be converted as part of the multi-million dollar project to offer additional civic space with connectivity to the Tribune building and other surrounding properties.
"The redevelopment of the Tribune building is a perfect example the power of community collaboration," said Lt. Governor Rebecca Kleefisch. "Here we have entrepreneurs, community leaders and social service organizations working together to improve the quality of life for all residents of the city. I congratulate Wisconsin Rapids on this exciting project."
WEDC's Community Development Investment Grant program supports community development and redevelopment efforts—primarily in downtown areas—throughout the state. Awards for the competitive program were based on the ability of applicants to demonstrate the impact of the proposed project, including public and private partnership development, financial need, and use of sustainable downtown development practices.
"Vibrant communities play an important role in the economic health of Wisconsin's cities, towns and villages," said Reed Hall, secretary and CEO of the Wisconsin Economic Development Corporation, the state's lead economic development organization. "We are confident that investment in the Tribune building will help spur additional business and community development in Wisconsin Rapids."
"Wisconsin Rapids' unique riverfront and surrounding spaces possess great potential in growing our local economy and stimulating investment," noted Zach Vruwink, mayor of Wisconsin Rapids. "In many ways, the proximity of the Tribune building and the community's involvement in the project is a testament to that."
The redevelopment of the Tribune building is expected to create 14 new full-time positions and 23 new part-time positions while supporting more than 200 temporary construction jobs and more than doubling the value of the property.
"We sincerely appreciate WEDC's commitment to Wisconsin Rapids," explained Kelly Ryan, Incourage president and CEO. "This grant, awarded to the Tribune, further demonstrates the importance of public-private and philanthropic partnerships to shaping a strong and inclusive, local economy. We thank the City of Wisconsin Rapids for their partnership in securing funding that can be coupled with additional investments to realize the Tribune's potential as a catalyst for new opportunities."
Construction on the Tribune building is planned to begin in fall 2015 and will continue throughout 2016 for an anticipated opening in early 2017.
Design renderings and interior plans for the Tribune facility are available for download at www.tribunebuilding.org.
###
About the Wisconsin Economic Development Corporation
The Wisconsin Economic Development Corporation (WEDC) leads economic development efforts for the state by advancing Wisconsin's business climate. Together with more than 600 regional and local business development partners, it represents a highly responsive and coordinated network. Visit www.inwisconsin.com or follow WEDC on Twitter @_InWisconsin to learn more.
About Incourage Community Foundation
Established in rural Wisconsin in 1994 to serve the changing needs of the south Wood County area, Incourage has become a nationally-recognized leader in place-based philanthropy and community development. Guided by values of equity, opportunity and shared stewardship, Incourage envisions a community that works well for all people. One physical manifestation of this vision is the Tribune, which demonstrates Incourage's resident-centered approach to growing a strong and inclusive local economy. To learn more, visit incouragecf.org.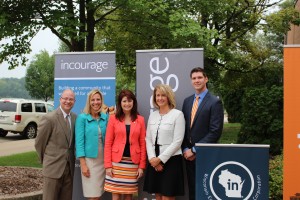 Photo courtesy of Incourage Community Foundation
---