Community Celebrates Assets & Generosity
Fri. Aug 21, 2015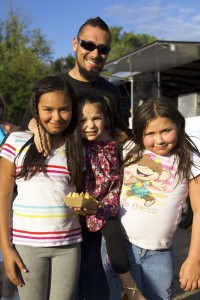 (Wisconsin Rapids, WI, August 21, 2015)  Over 5,000 people attended the fourth annual Community Picnic, August 5 in downtown Wisconsin Rapids to enjoy local food and entertainment, reconnect with friends and appreciate the natural beauty that the Wisconsin River offers.
By fostering a spirit of connectedness in an open and inclusive setting, the Community Picnic, presented by Incourage, helps to realize the organization's vision of a community that works well for all people.
One example of this included more resident participation in the planning process. Mother-daughter duo Tammy and Sarah Salewski joined the planning committee this year as Co-chair and Food Lead, respectively. Sarah was excited to be able to give back to the community. "It's great to represent what the younger generation is capable of doing and that we do care about the vitality of our community and recognize the great opportunities and potential it has to offer," she emphasized.
The generosity for and engagement in the Community Picnic has grown significantly since inception in 2012. Some statistics from this year's Picnic include: more than 250 volunteers contributing their talents resulting in approximately 675 hours; 38 businesses and organizations partnering to host the event; and an estimated 65 percent of food partners serving local products or incorporating local ingredients in the menu items.
"It was especially exciting and rewarding to witness the community's desire to be involved in celebrating our assets, most importantly, the people who live here," added Jenna Moran, Incourage Co-Chair.
Many residents and volunteers provided positive feedback. Attendee Melanie Kozlowski shared, "What a beautiful evening for the community to come together in downtown Wisconsin Rapids…clearly, many people are working hard to make positive contributions!"
Volunteer Andy Dewitt believes the picnic helps "to build positive relationships with each other in order to foster a sharing of vision and ownership in the continued prosperity of our greater Wisconsin Rapids area."
To view Incourage's Picnic Video go to: 2015 Community Picnic
Media Contact:
Jen Perry, Communications
Phone: 715.423.3863
About Incourage
Established in rural Wisconsin in 1994 to serve the changing needs of the south Wood County area, Incourage has become a nationally-recognized leader in place-based philanthropy and community development. Guided by values of equity, opportunity and shared stewardship, Incourage envisions a community that works well for all people. One physical manifestation of this vision is the Tribune, which demonstrates Incourage's resident-centered approach to growing a strong and inclusive local economy. To learn more, visit incouragecf.org.
---