Energy Education Extravaganza: Local Collaborative Receives Third Grant
Wed. Dec 16, 2015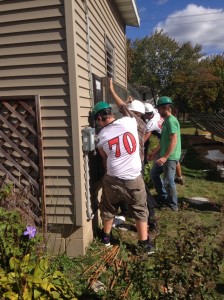 (Wisconsin Rapids, WI, – December 16, 2015) – Constellation℠ Energy has awarded a third $45,000 grant to Incourage's Business Education Partnership, based on the success of two previous grants. The Business Education Partnership is a collaboration of four public and two private school systems, Mid-State Technical College (Mid-State), and 10 area businesses focused on narrowing the skills gap in STEM (Science, Technology, Engineering & Math).
"Building Energy Education Pathways" or Project "BEEP" engages participating schools in energy curriculum and instruction, and includes capital projects to demonstrate renewable energy systems. To date, the grants have provided energy curriculum to over 1,100 area students.
"This grant provides opportunities for ongoing collaboration among school systems, community organizations and engaged businesses," said Rick Merdan, Incourage grant coordinator. "Incourage is pleased to facilitate collaborative sustainability educational opportunities that help to shape a strong and inclusive local economy in south Wood County." Incourage recently published a white paper titled, Growing the Economy in Central Wisconsin Through Environmental Sustainability to highlight how community-supported sustainability features designed into the redeveloped Tribune Building will provide benefits for generations to come.
This grant will expand solar photovoltaic installations to area middle schools and provide high school students the opportunity to earn scholarships to attend one of Mid-State's three renewable energy programs: Renewable Energy Specialist, Solar Electric Technician, and Sustainable Heating & Cooling.
"These renewable systems designed by Mid-State students and installed by high school students, create a lasting educational tool while delivering free, clean, and sustainable energy to the schools," said Mid-State Technical College instructor Ben Nusz. "This project has so many unique benefits on so many levels."
The grant also incorporates further energy education curriculum from Mid-State's renewable energy programs into additional schools, and provides sponsorship for the area's first "Solar Olympics" competition which will be held at Mid-State's Wisconsin Rapids Campus.
"The Constellation grants have provided needed resources to further help contextualize science and technology curriculum. The students aren't just learning about renewable energy from a book, they are actively optimizing real systems through hands-on learning," said Eric Siler, Wisconsin Rapids Public Schools Career and Technical Education coordinator.
About Incourage
Established in rural Wisconsin in 1994 to serve the changing needs of the south Wood County area, Incourage has become a nationally-recognized leader in place-based philanthropy and community development. Guided by values of equity, opportunity, and shared stewardship, Incourage envisions a community that works well for all people. One physical manifestation of this vision is the Tribune, which demonstrates Incourage's resident-centered approach to growing a strong and inclusive local economy. To learn more, visit www.incouragecf.org.
About the Business Education Partnership
The Business Education Partnership began in 2012, following Incourage's 2012 community survey, data from the Vital Signs report, and feedback from area employers. Incourage's Workforce Central Manufacturing Partnership initiated the Business Education Partnership by bringing together 10 area businesses and area public and private schools. The partnership's goal is to narrow the skills gap, specifically in STEM (Science, Technology, Engineering, and Math), and create greater awareness of local family-sustaining career opportunities.
About Mid-State Technical College
Mid-State, one of 16 colleges in the Wisconsin Technical College System, offers associate degrees, technical diplomas, and certificates in a variety of high-demand fields. With campuses in Marshfield, Stevens Point, and Wisconsin Rapids, and a learning center in Adams, the college district serves a resident population of approximately 165,000. Mid-State's supportive environment, state-of-the-art technology, and faculty with professional experience in the fields they teach provide Mid-State graduates with real-world skills, knowledge, experience, and confidence they need for an in-demand career. More than 9 in 10 Mid-State graduates are employed within six months of graduation. Visit the college's website at www.mstc.edu.
About Constellation℠
Constellation℠ is a leading competitive retail supplier of power, natural gas and energy products and services for homes and businesses across the continental United States. Constellation's family of retail businesses serves more than 100,000 business and public sector customers, including more than two-thirds of the Fortune 100, and more than 1 million residential customers. Baltimore-based Constellation is a subsidiary of Exelon Corporation (NYSE: EXC), the nation's leading competitive energy provider, with 2013 revenues of approximately $24.9 billion, and more than 35,000 megawatts of owned capacity comprising one of the nation's cleanest and lowest-cost power generation fleets. Learn more at www.constellation.com or on Twitter at @ConstellationEG.
---