Get Your Tribune Building Project Questions Answered
Tue. Feb 28, 2017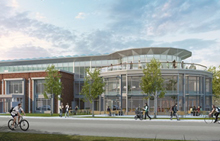 (Wisconsin Rapids, WI, February 28, 2017) – Do you hear questions or have questions about Incourage's Tribune Building Project? How will it be paid for? Will it compete with other businesses? Is it ever going to open?
Join Incourage to get answers to these questions, ask others and learn more about the project. An informational meeting is set for 5:30-7 p.m. Wednesday, March 8, in McMillan Library's Auditorium, 490 E. Grand Ave. in Wisconsin Rapids.
The event is free and open to the public. Please contact Incourage if you need childcare or transportation.
For more information or to RSVP, visit incouragecf.org, find Incourage on Facebook, or call 715-818-6188.
-end-
Media Contacts:
Carol Davis, Communications
Phone: 715.818.6179; Email: [email protected]
About Incourage:
Established in rural Wisconsin in 1994 to serve the changing needs of the south Wood County area, Incourage has become a nationally-recognized leader in place-based philanthropy and community development. Guided by values of equity, opportunity, and shared stewardship, Incourage envisions a community that works well for all people. One physical manifestation of this vision is the redevelopment of the Tribune building, which demonstrates Incourage's resident-centered approach to growing a strong and inclusive local economy. To learn more, visit incouragecf.org.
---