Help Determine Tribune Building's Future Use
Tue. Sep 17, 2013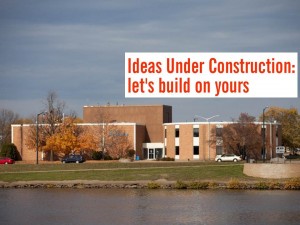 FOR IMMEDIATE RELEASE
Wisconsin Rapids, WI, September 17, 2013 … Residents have the opportunity to be part of local history, as Incourage Community Foundation asks residents to decide the future use of the former Daily Tribune building.
The first Public Idea Sharing meeting is set for Tuesday, October 8, 5:30-7:30 p.m., at Centralia Center, 220 Third Avenue South in Wisconsin Rapids.
"Everyone is welcome and encouraged to participate in idea-sharing and decision-making to create a space designed by the community," emphasized Helen Jungwirth, Incourage board chair and former Daily Tribune publisher. "The Tribune Building is your building, yours to shape into a space that connects people with each other and to riverfront assets and activities."
This is the first in a series of four meetings that begin October 8. Future meeting dates are November 12, December 10 and January 14. Each meeting builds upon the previous session's progress, as residents move forward on ideas and decisions. All meetings are from 5:30-7:30 p.m. at Centralia Center.
Pizza and refreshments are provided at the meetings, free of charge. If you need assistance with transportation, child care, etc., call Incourage. RSVP online at www.TribuneBuilding.org, via phone at 715.423.3863, or email [email protected].
Interested residents are also encouraged to tour the building prior to the October meeting. Building tour times are Thursday, September 26, 5:30 p.m.; Saturday, October 5, 3 p.m. and Sunday, October 6, 1 p.m. Other dates are also available. Call or email Incourage to reserve a tour. The former Tribune Building is located at 220 1st Avenue South, in downtown Wisconsin Rapids.
Download details and frequently asked questions >>
---