Incourage Awards 2020 Scholarships
Wed. Jun 24, 2020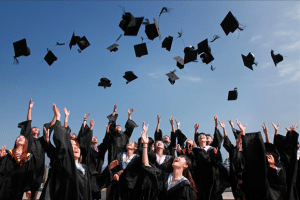 (Wisconsin Rapids, WI, June 24, 2020) Thanks to the generosity of its donors, in 2020 Incourage awarded $160,500 (162 scholarships) to 123 students pursuing or continuing higher education.
"We are so thankful for our donors, their belief in the power of education and the investment they're making in the students, their futures and our community," said Kim Shields, Incourage Community Investment Coordinator. "Without their incredible support and generosity, these scholarships would not be possible."
Since its inception in 1994, Incourage has awarded more than 3,700 scholarships totaling more than $2.64 million dollars. Today, it administers more than 100 scholarship funds.
2020 Scholarships and Recipients
John Akey Memorial Scholarship – Anne Herdt, UW-Stevens Point at Wausau
Helen L. Arndt Scholarship – Alyssa Banta, Molly Friday, Riley Huiras, Alisha Khang, Taylor Mancl, Logan Planer, Matthew Schooley, Willow Sering, Gabriel Zwicke, Lincoln High School
Brent J. Atkinson Memorial Scholarship – Dakota Moody, Nekoosa High School
Elda Bark Memorial Scholarship – Evangeline Blucher, McKenzie Brandsma, Dallas Crawford, Dustin Groshek, Judah Henriksen, Tashonna Hickmon, Vang Khang, Sarah Korte, London Kubisiak, Chloe Matthews, Caroline Narel, Elizabeth Schmutzer, Jacqueline Sii, Bennet Smith, Taylor Swanson, Lorena Torres, Noah Vincent, Chandler Vruwink, Lincoln High School
Tammy Batten Memorial Scholarship – Josephine Altmann, Lincoln High School
Bell Family Scholarship – Ryan Hustedt, Assumption High School; Megan Shields, John Edwards High School
Elinor G. Benkowski Memorial Scholarship – Jonathan Lager, Lincoln High School
Mr. and Mrs. Carl J. Billmeyer Memorial Scholarship – Allison Taylor, Assumption High School
John and Karen Bingham Scholarship – Rio Rasmussen, Neillsville High School
Renee J. Bombaci Memorial Scholarship – Molly Frizzell, Lincoln High School
Bridget Bord Memorial Scholarship – Paige Stein, Non-Traditional student
Helen Cartwright Graff Scholarship – Olivia Skifton, Lincoln High School
CDA STEM Scholarship – Abigail Look, Lincoln High School
Fred Dahm Memorial Scholarship – Vang Khang, Lincoln High School
Michael and Susan Daly "Badger #7" Scholarship – Jaret Hartley, Assumption High School
Chuck Davies Scholarship – Jamie White, Mid-State Technical College
Kathleen Davis Scholarship in memory of her father, Gordon Krubsack – Elizabeth Weichert, Nekoosa High School
Dempze Family Scholarship in memory of Gordon and Iris Dempze – Torger Stachurski, Lincoln High School; Dulce Vang, UW-Madison
Elisa Derickson Fund for Writing Scholarship – Zavier Wille, Lincoln High School
David R. Dolan Memorial Scholarship – Danielle Lytle, Lincoln High School
Double Diamond Leadership Scholarship – Hannah Felker, Lincoln High School
Betty and Bernell Dye Pittsville Memorial Scholarship – Emma McLaughlin, Pittsville High School
Betty and Bernell Dye Tri-City Memorial Scholarship – Elizabeth Haupt, Lincoln High School
Elks Ladies of Wisconsin Rapids Lodge #693 Scholarship – Hannah Felker, Jessica Mueller, Lincoln High School
Fehrman Family Scholarship – Josephine Altmann, Adam Price, Lincoln High School
Georgia Fenner Memorial Scholarship – Ellie Rietveld, Lincoln High School
Lynn and Ruth Feutz Education Scholarship – Katherine Krotzman, Lincoln High School
Marion Fey Nursing Scholarship – Brenna Bonkoski, Lincoln High School
Dr. Robert "Buck" Gill Scholarship – Justin Abraham, Lincoln High School
William M. Gleue Jr. Memorial Scholarship – Wyler Lubeck, Lincoln High School
Barbara Schmitz Grasser Memorial Scholarship – Paige Donahue, Assumption High School
Sherry Gurtler Memorial Nursing Scholarship – Brenna Bonkoski, Lincoln High School
Leonard and LaRayne Guth Family Scholarship – Alaina Bechard, Claire Freeh, Katelyn Weiler, Lincoln High School
Earl and Vivian Haefs Assumption Medical Field Scholarship – Patience Pecher, Danielle Smits, Assumption High School
Aloysius "Al" Hauck Engineering Scholarship – Hope Jepson, Lincoln High School
Amy O. Hemming Scholarship – Francis Johnson, Fox Valley Technical College; Jamie White, Mid-State Technical College
George and Marlene Holland Family Baseball Scholarship – Sawyer Koplien, Nekoosa High School
Leo Huber Scholarship – Hailey Brown, Isaiah Dillon, Sawyer Goodwin, Marissa Harnisch, Katherine Krotzman, Eleanor Liebherr, Emma Seipel, Jonah Thomas, Nekoosa High School
Frank and Illa Ironside Scholarship – Clare Wiedmeyer, Assumption High School; Allison Abbott, Josephine Altmann, Lincoln High School
Richard "Dick" Kane Memorial Scholarship – Faith Jepson, Lincoln High School
Officer Bill Kautzer Memorial Scholarship – Marissa Harnisch, Nekoosa High School
Mary Elizabeth Kellogg Memorial Scholarship – Brianna Havitz, Mid-State Technical College
David A. Kempfert Memorial Scholarship – Morgan Elliott, Lincoln High School
Kinsey Family Scholarship in memory of Karen Kinsey – Olivia Skifton, Lincoln High School
Kiss-Hartman Scholarship – Andrew Sparks, Lincoln High School
Emily Klopotek Memorial Scholarship – McKenzie Brandsma, Lincoln High School
Carl C. and Anna Knudsen Scholarship – Ryan Blokhuis, Kaylie Marzofka, Alexandra Stephenson, Lincoln High School
Lincoln High School Achievement Award – Callisto Mathiesen, Richard Miller, Harrison Sullivan, Alexandria Zueger, Lincoln High School
Lincoln High School Alumni Scholarship – Lauren Ontl, Lincoln High School
Lincoln High School Class of 1961 Scholarship – Faith Jepson, Lincoln High School
Lee McCarville Memorial Scholarship – Lauren Ontl, Lincoln High School
Helen Mead Veterinary Scholarship – Alexa Kranig, UW-River Falls
Mid-Towne Dental Community Education Scholarship – Danielle Smits, Assumption High School; Amanda Schaefbauer, Nekoosa High School
Ruth & Ray Moody Family Scholarship – Delaney Weiler, Assumption High School
Dave Murgatroyd Memorial Scholarship – Harrison Sullivan, Lincoln High School
Andrew Neitzel "Freak Flag" Scholarship – Amanda Ahles, Lincoln High School
Gladys R. Nelson Memorial Scholarship – Erika Dingus, Lincoln High School
Ned C. Norton Memorial Scholarship – Elizabeth Schmutzer, Lincoln High School
Duane and Valerie Nygaard Scholarship – Makenzie Amundson, Nekoosa High School; Eric Neve, Pittsville High School; Madelyn Dickey, UW-Stevens Point
T.P. Olson Engineering Scholarship – Jackson Benda, UW-Madison
Steven H. Peterson Family Memorial Scholarship – Garrett Junemann, Lincoln High School
Pittsville High School Alumni Scholarship – Eric Neve, Pittsville High School
Thomas F. and Nancy Z. Plunkett Scholarship, established in honor of Frances Nairn, former Guidance Director at Lincoln High School – Madelyn Dickey, UW-Stevens Point
Powering Futures Electric Lineworker Scholarship – Trenton Thole, Rice Lake High School
Amber Rahn Memorial Scholarship – Ahlana Miller, Lincoln High School
RC Scholarship – Erika Dingus, Oliver Hayes, Hannah Jarosch, Ellie Rietveld, Kayelyn Schulze, Lydia Thurber, Ryan Vollert, Sophia Wardour, Alexandria Zueger, Lincoln High School
Reyes/Ancel Scholarship – Katelyn Weiler, Lincoln High School; Anita Jaimes, Nekoosa High School
Louie and Libby Rosandick Community Leadership Scholarship in honor of their 50th wedding anniversary – Layne Gebert, Assumption High School
Bernard and Marlyce Schmick Scholarship – Ryan Hustedt, Assumption High School
Elaine Semrow Health Education Scholarship – Jessica Mueller, Lincoln High School
Robert Shaw, Jr. Memorial Scholarship – Abigail Wangen, Lincoln High School
Snyder 4-H Scholarship in honor of Ed and Shirley Vruwink – Bellah Vinter, Lincoln High School; Amber Brockman, Homeschool
Ray Speltz Memorial Music Scholarship – Alaina Bechard, Lincoln High School
John and Judy Steele Minority Scholarship – KaBlia Thao, Lincoln High School
Dr. John and Germaine Thompson Good Citizenship Award – Jada Janneau, Cody Olski, Nekoosa High School
Jesse D. Tillery and Matthew T. Grimm Memorial Scholarship – Amanda Schaefbauer, Nekoosa High School
Mitchell G. Tomfohrde Memorial Scholarship – Ciara Ladick, Lincoln High School
Traci Urban Memorial Scholarship – Megan Dudgeon, Lincoln High School
Ernie Vogler Memorial Scholarship – Lydia Thurber, Lincoln High School
Edward W. and Shirley J. Vruwink Scholarship – Erin Schlaefer, Assumption High School
Ryan Weidman Memorial Scholarship – Jacqueline Sii, Lincoln High School
Luke Weiland Memorial Scholarship – Abigail Look, Lincoln High School
James H. Wenzlaff Scholarship – Adam Price, Ethan Wilhorn, Lincoln High School
Brian Wilhelm Memorial Scholarship – Harrison Lambert, Lincoln High School
Herbert Williams Future Educator Scholarship – Megan Shields, John Edwards High School
Wisconsin Rapids Optimist Club Scholarship – Paige Donahue, Assumption High School; Megan Shields, John Edwards High School; Kaylie Marzofka, Lincoln High School; Eleanor Liebherr, Nekoosa High School
Wisconsin Rapids Sunrise Rotary Scholarship and Mentoring Award – Tashonna Hickman, Lincoln High School; Katherine Krotzman, Nekoosa High School
Art Wittenberg Scholarship – Derek Coates, John Edwards High School
Russ Wolff Memorial Scholarship – Garrett Junemann, Lincoln High School
Earl and Ellen Young Memorial Endowment Scholarship – Brian Harms, Kendall Schill, Assumption High School; Brynna Hawk, John Edwards High School; Justin Abraham, Bennet Smith, Lincoln High School; Brendon Gildenzoph, Trent Waltenberg, Nekoosa High School
-end-
---