Incourage Awards 2021 Scholarships
Wed. Jun 9, 2021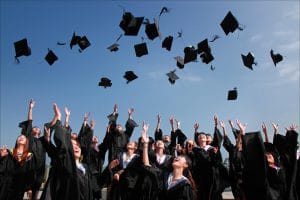 (Wisconsin Rapids, WI, June 9, 2021) Thanks to the generosity of its donors, in 2021 Incourage awarded $172,500 (170 scholarships) to 110 students pursuing or continuing higher education.
"We are so thankful for our donors, their belief in the power of education and the investment they're making in the students, their futures and our community," said Kim Shields, Incourage Community Investment & Communications Specialist. "Without their support and generosity, these scholarships would not be possible."
Since its inception in 1994, Incourage has awarded nearly 3,900 scholarships totaling more than $2.81 million dollars. Today, it administers more than 100 scholarship funds.
2021 Scholarships and Recipients
John Akey Memorial Scholarship – Ashtin Holz, Northcentral Technical College
American Legion Post 9 Scholarship – Ashlyn Southworth, Lincoln High School
Helen L. Arndt Scholarship – McKayla Blaser, Rachel Bronson, Halle Heath, Joseph Jansen, Madeline Krzykowski, Sarah Price, Emily Pyburn, Holly Stronach, Emily Weber, Lincoln High School
Elda Bark Memorial Scholarship – Kelly Alekna, Olivia Capelle, Angel Francis, Nathan Frost, Halle Heath, Kaden Kizewski, Kaitlyn Kouba, Rachel Marten, Avery McMillen, Kendall Petersen, Morgan Overturf, Grace Radtke, Alexcis Rehberg, Liam Russo, Adrienne Scheide, Mokei Thao, Bailey Twinn, Taylor Wentland, Lincoln High School
Tammy Batten Memorial Scholarship – Laura Klingforth, Lincoln High School
Bell Family Scholarship – Madison Bills, Nekoosa High School; Kendall Schmidt, Assumption High School
Elinor G. Benkowski Memorial Scholarship – Cameron Wilhorn, Lincoln High School
Kathleen E. Berg Memorial Scholarship – Amanda Kester, UW-Stevens Point
Mr. and Mrs. Carl J. Billmeyer Memorial Scholarship – Anna Tagarelli, Assumption High School
John and Karen Bingham Scholarship – Evan Swen, Lincoln High School
Renee J. Bombaci Memorial Scholarship – Morgan Overturf, Lincoln High School
Bridget Bord Memorial Scholarship – Jessica Grundhoffer, Assumption High School
CDA STEM Scholarship – Zack Petersen, John Edwards High School
Fred Dahm Memorial Scholarship – McKayla Blaser, Lincoln High School
Michael and Susan Daly "Badger #7" Scholarship – Greta Plummer, Lincoln High School
Chuck Davies Scholarship – Carly Hintz, Assumption High School
Kathleen Davis Scholarship in memory of her father, Gordon Krubsack – Micheal Wilson, Nekoosa High School
Dempze Family Scholarship in memory of Gordon and Iris Dempze – Hannah Felker, UW-Oshkosh; Molly Friday, UW-LaCrosse
Elisa Derickson Fund for Writing Scholarship – Sarah Price, Lincoln High School
David R. Dolan Memorial Scholarship – Matthew Moyer, Lincoln High School
Double Diamond Leadership Scholarship – Caitlin Casey, Assumption High School
Betty and Bernell Dye Pittsville Memorial Scholarship – Rebekah Downs, Pittsville High School
Betty and Bernell Dye Tri-City Memorial Scholarship – Allie Shroda, John Edwards High School
Elks Ladies of Wisconsin Rapids Lodge #693 Scholarship – Kendall Schmidt, Assumption High School; Taylor Wentland, Lincoln High School
Fehrman Family Scholarship – Emily Weber, Lincoln High School
Georgia Fenner Memorial Scholarship – Tyla Weidman, Lincoln High School
Lynn and Ruth Feutz Education Scholarship – Emily Tokarski, Lincoln High School
Marion Fey Nursing Scholarship – Alexis Heinen, Lincoln High School
Dr. Robert "Buck" Gill Scholarship – Madeline Krzykowski, Lincoln High School
William M. Gleue Jr. Memorial Scholarship – Jack Lila, Lincoln High School
Dr. Charles W. Gurtler Dental Memorial Scholarship – Jayson Wiernik, Marquette University
Sherry Gurtler Memorial Nursing Scholarship – McKayla Blaser, Lincoln High School
Leonard and LaRayne Guth Family Scholarship – Julia Drewiske, Kylie Kronstedt, Assumption High School; Rachel Marten, Lincoln High School
Earl and Vivian Haefs Assumption Medical Field Scholarship – Anthony Arias, Abigail Berard, Emily Bohn, Caitlin Casey, Araya Elsen, Maria Hartley, Kylie Kronstedt, Alexis Krug, Assumption High School
Aloysius "Al" Hauck Engineering Scholarship – Kaden Kizewski, Lincoln High School
Amy O. Hemming Scholarship – Claire Freeh, Faith Jepson, UW-Madison
Carl J. Hilke Memorial Scholarship – Emma Russell, Lincoln High School
George and Marlene Holland Family Baseball Scholarship – Josiah Melke, Nekoosa High School
Leo Huber Scholarship – Sierra Andrews, Madison Bills, Hayden Kaberle, Shania Lancour, Josiah Melke, Anna Schaefbauer, Elise Waltenberg, Micheal Wilson, Nekoosa High School
Frank and Illa Ironside Scholarship – Laura Klingforth, Lincoln High School
Richard "Dick" Kane Memorial Scholarship – Tyler Derringer, Lincoln High School
Officer Bill Kautzer Memorial Scholarship – Elise Waltenberg, Nekoosa High School
Mary Elizabeth Kellogg Memorial Scholarship – Brianna Havitz, Mid-State Technical College
David A. Kempfert Memorial Scholarship – Tyla Weidman, Lincoln High School
Kinsey Family Scholarship in memory of Karen Kinsey – Morgan Overturf, Lincoln High School
Kiss-Hartman Scholarship – Gavin Black, Nekoosa High School
Emily Klopotek Memorial Scholarship – Emily Pyburn, Lincoln High School
Carl C. and Anna Knudsen Scholarship – Kaitlyn Kouba, Grace Radtke, Adrienne Scheide, Lincoln High School
Donald J. Krohn Family Scholarship – Alison Junemann, Lincoln High School
Lincoln High School Achievement Award – Kelly Alekna, Devon Docherty, Jack Lila, Taylor Wentland, Lincoln High School
Lincoln High School Alumni Scholarship – Jack Lila, Lincoln High School
Lincoln High School Class of 1961 Scholarship – Collin Kozlowski, Lincoln High School
Marcouex Family Memorial Scholarship – Adrienne Scheide, Lincoln High School
Lee and Pat McCarville Memorial Scholarship – Alexcis Rehberg, Lincoln High School
Helen Mead Veterinary Scholarship – Alexa Kranig, UW-River Falls
Mid-Towne Dental Community Education Scholarship – Olivia Capelle, Greta Plummer, Lincoln High School
Ruth & Ray Moody Family Scholarship – Ashlyn Southworth, Lincoln High School
Dave Murgatroyd Memorial Scholarship – Hunter Harms, Assumption High School
Andrew Neitzel "Freak Flag" Scholarship – Alison Junemann, Lincoln High School
Gladys R. Nelson Memorial Scholarship – Emily Tokarski, Lincoln High School
Thomas Newman and Susan Holly-Newman Memorial Scholarship – Laura Klingforth, Lincoln High School
Ned C. Norton Memorial Scholarship – Lukas Erickson, Lincoln High School
Duane and Valerie Nygaard Scholarship – Madelyn Dickey, Megan Shields, UW-Stevens Point; Joshua Dachel, University of Mary; Ryan Hustedt, UW-La Crosse
T.P. Olson Engineering Scholarship – Hope Jepson, UW-Madison
Steven H. Peterson Family Memorial Scholarship – Joseph Jansen, Lincoln High School
Pittsville High School Alumni Scholarship – Emily Carlson, Pittsville High School
Thomas F. and Nancy Z. Plunkett Scholarship, established in honor of Frances Nairn, former Guidance Director at Lincoln High School – Paige Donahue, Saint Norbert College
Powering Futures Electric Lineworker Scholarship – Collin Sauer, Kettle Moraine High School
Amber Rahn Memorial Scholarship – Angel Francis, Lincoln High School
RC Scholarship – Azalea Clendenning, Jared DeRoche, Devon Docherty, Blake Hafermann, Jacob Johnson, Jessica Leow, Emma Russell, Emily Weber, Tyla Weidman, Lincoln High School
Reyes/Ancel Scholarship – Daniel Gonzalez, Bianca Housworth, Nekoosa High School
Louie and Libby Rosandick Community Leadership Scholarship in honor of their 50th wedding anniversary – Emma Russell, Lincoln High School
Russell Rottler Memorial Scholarship – Hayden Kaberle, Nekoosa High School
Robert and Kathleen Scamfer Scholarship – Daniel Gonzalez, Nekoosa High School
Bernard and Marlyce Schmick Scholarship – Araya Elsen, Assumption High School
Elaine Semrow Health Education Scholarship – Kendall Petersen, Lincoln High School
Robert Shaw, Jr. Memorial Scholarship – Alexcis Rehberg, Lincoln High School
Snyder 4-H Scholarship in honor of Ed and Shirley Vruwink – Maria Esser, Dezerae Pelot, Pittsville High School
Ray Speltz Memorial Music Scholarship – Amanda Kester, UW-Stevens Point
John and Judy Steele Minority Scholarship – Tien Khanh Luu, Assumption High School
Dr. John and Germaine Thompson Good Citizenship Award – Rebecca Black, Holly Pearce, Nekoosa High School
Jesse D. Tillery and Matthew T. Grimm Memorial Scholarship – Dezerae Pelot, Pittsville High School
Mitchell G. Tomfohrde Memorial Scholarship – Holly Stronach, Lincoln High School
Traci Urban Memorial Scholarship – Megan Dudgeon, Lindenwood University
Ernie Vogler Memorial Scholarship – Jessica Leow, Lincoln High School
Edward W. and Shirley J. Vruwink Scholarship – Rebecca Black, Nekoosa High School
Ryan Weidman Memorial Scholarship – Emily Pyburn, Lincoln High School
Luke Weiland Memorial Scholarship – Collin Kozlowski, Lincoln High School
James H. Wenzlaff Scholarship – Erika Dingus, UW-Eau Claire
Brian Wilhelm Memorial Scholarship – Carter Peplinski, Lincoln High School
Wisconsin Rapids Optimist Club Scholarship – Julia Drewiske, Assumption High School; Allie Shroda, John Edwards High School; Halle Heath, Lincoln High School; Sierra Andrews, Nekoosa High School
Wisconsin Rapids Sunrise Rotary Scholarship and Mentoring Award – Bianca Housworth, Nekoosa High School
Art Wittenberg Scholarship – Derek Coates, UW-Eau Claire; Benjamin Hanten, John Edwards High School
Russ Wolff Memorial Scholarship – Laura Klingforth, Lincoln High School
Earl and Ellen Young Memorial Endowment Scholarship – Elizabeth Lamp, Hannah Lamp, Assumption High School; Natalie Mock, John Edwards High School; Kolton Kessler, Madison Lange, Brayden Quick, Lincoln High School; Rebecca Kniprath, Nekoosa High School
-end-
---