Incourage Purchases Daily Tribune Building
Thu. Dec 20, 2012
FOR IMMEDIATE RELEASE
Wisconsin Rapids, WI, December 20, 2012 … Incourage Community Foundation has purchased the Daily Tribune newspaper building in Wisconsin Rapids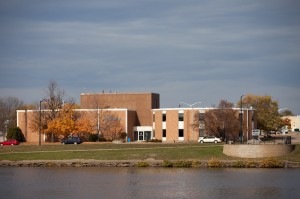 .
The building, situated along the riverfront in the center of downtown Wisconsin Rapids, is located at 220 1st Avenue South. In late September, The Daily Tribune's parent company, Gannett, listed the property for sale.
Incourage CEO Kelly Ryan noted, "This building is a symbol of the rich history and culture of our region. We see the Tribune property  as an opportunity to further ignite community participation."
According to Incourage Board Chair Guadalupe Ancel, the organization is committed to community development and supporting inclusive, transparent planning processes.
"All community members will be invited to participate in determining the future use of this important piece of property," Ancel said.
The property was purchased on December 14, 2012, with Forward Community Investments (FCI), based in Madison, as a co-investor. FCI is a statewide Community Development Finance Institution. The purchase was made through Community Property Inc., a supporting organization of Incourage set up to accept and manage gifts and purchases of real estate.
"We are pleased to sell the building to Incourage Community Foundation. It has a terrific track record of community partnerships and positive development in the Wisconsin Rapids area," said Allen Hicks, general manager and editor of The Daily Tribune.
In the early 2000s, the Community Foundation and the City of Wisconsin Rapids worked together to facilitate a public/private partnership that led to the redevelopment of a blighted building. That renovation is now the award-winning Centralia Center, located directly behind The Daily Tribune property.
Frequently Asked Questions here: FAQ
---