Incourage thanks state officials for supporting Tribune
Wed. Jul 3, 2019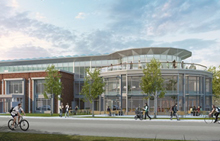 Incourage thanks Governor Evers, members of the legislature for supporting state funding for Tribune Building
Kelly Ryan, Incourage CEO, expressed her thanks to Governor Tony Evers, state Senator Pat Testin, and state Representative Scott Krug for their leadership and advocacy in support of funding to redevelop the vacant Wisconsin Rapids Tribune building. The state budget that Gov. Evers signed today includes a grant of $3M to support redevelopment of the building into a community and economic development hub that will serve Wisconsin Rapids, South Wood County and Central Wisconsin.
Planned uses of the building, informed by residents, will include:
Training microbrewery in partnership with the North Central Wisconsin Workforce Development Board;
Instructional kitchen, in partnership with Mid-State Technical College, to support the region's growing hospitality and tourism industry;
Café brewpub with outdoor riverfront dining; and
Community and gathering spaces.
The Partnership for Sustainable Communities, a joint initiative of UW-Stevens Point and Incourage, will enable a physical presence to engage and leverage the resources of UW-Stevens Point, in addition to offering business and entrepreneurship support including access to financing, opportunities for informal collaboration among entrepreneurs, training and workshops.
"The Tribune is the culmination of many years of work. Successful redevelopment of this community asset is associated – in the minds of many – with the likelihood of our communities' future success and viability," Ryan said. "Thousands of residents and dozens of local businesses have participated in shaping the Tribune project. These community members have a vested interest in its success and view the Tribune as a beacon for the future. The Tribune demonstrates that we can change, we can transition an economy, we can work together and, importantly, that all voices matter in shaping the future we desire."
Following the sale of Consolidated Papers in 2000, the community's major employer, Wisconsin Rapids experienced a sharp decline in employment and household income. As planned, the Tribune will support diversification of the Wisconsin Rapids and South Wood County economy and will provide support for innovation and entrepreneurship.
To learn more about the Tribune Building, visit: https://incouragecf.org/lead/tribune-building/
---