Join the May 27 Tribune Building design meeting
Thu. May 15, 2014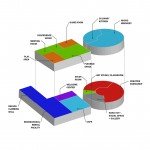 Click here for a larger diagram of the plans that were revealed in April 2014.
PUBLIC IS INVITED TO THE MAY 27 DESIGN MEETING
At Meeting #1, residents put their creativity to work on the plans revealed for the former Daily Tribune building (here). They brainstormed together on design and layout possibilities, but there's more fun work to do. Everyone's input is important to create a space that celebrates the vision and voice of our community. That includes you — please join us.
RSVP for Meeting #2
· Tuesday | May 27 | 5:30 – 7:30 pm
· Centralia Center | 220 Third Ave S | Wisconsin Rapids
· Food and refreshments provided
· RSVP online here  
Meeting #1 Summary
Thank you to everyone who joined us at the April 29 meeting. If you were unable to attend or would like to review a summary of the work completed, click here.
Places Define a Community, but They are Nothing Without People

How can I help spread the word?
To date, over 500 community members have been involved in this resident-led decision making process. Click here to download a flyer for the May 27 public meeting, and invite your friends, family, neighbors and coworkers to join the conversation and decision-making!
Save the dates!
This work is a process and everyone is welcome and encouraged to participate. Save these dates for upcoming Design Meetings:
· Tuesdays | May 27 | Jun 24 | Jul 29| Aug 26 | Sep 30 | 2014
· 5:30 – 7:30 pm 
· Centralia Center, 220 Third Ave S, Wisconsin Rapids

---