Local Education Collaborative Receives Second Constellation℠ Grant
Fri. Jan 23, 2015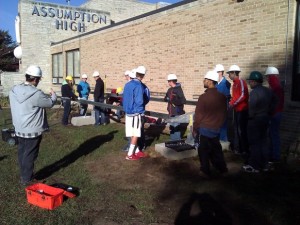 (Wisconsin Rapids, WI, January 22, 2015) Based on the success of its initial grant, Constellation Energy has awarded a second $45,000 grant to Incourage Community Foundation's Business Education Partnership.
This grant will support renewable energy education within five central Wisconsin public and private school systems. Incourage facilitated the grant application process and Mid-State Technical College (MSTC) Foundation, a partner in the initiative, is serving as recipient and fiscal agent.
Entitled "CLEAN Future" – Communities Learning Energy And Networking for the Future – this second grant provides:
• A common capital platform at each school system (Lincoln and Assumption high schools in Wisconsin Rapids, Nekoosa High School, Pittsville High School, and John Edwards High School in Port Edwards), with the addition of a solar photovoltaic installation at Pittsville High School;
• Continuing education to promote sustainability of the program;
• Tools for instructors to leverage the technology installations;
• Integrated IT resources for optimum distribution throughout the school systems;
• Demonstration solar thermal installations at John Edwards and Lincoln high school greenhouses.
"This CLEAN Future grant provides opportunities for ongoing collaboration among school systems, community communication, and expansion of technologies," said Rick Merdan of Incourage Community Foundation. "Incourage is pleased to be facilitating sustainability opportunities like these, especially ones that help to shape a new economy in south Wood County."
The Business Education Partnership began in 2012, following Incourage's 2012 community survey, data from the Vital Signs report, and feedback from area employers. Incourage's Workforce Central Manufacturing Partnership initiated the Business/Education Partnership by bringing together 10 area businesses and area public and private schools. The partnership's goal is to narrow the skills gap, specifically in STEM (Science, Technology, Engineering, and Math), and create greater awareness of local family-sustaining career opportunities. In 2013, Business Education Partnerships received the first $45,000 Constellation℠ Energy to Educate grant, which brought MSTC renewable energy curriculum and solar photovoltaic installations into four area high schools (Assumption, Nekoosa, John Edwards, and Lincoln).
The video, Power to the pupils! highlights efforts from the first grant.
Media Contact:
Jen Perry, Communications
Phone: 715.423.3863
About Incourage
Established in rural Wisconsin in 1994 to serve the changing needs of the south Wood County area, Incourage has become a nationally-recognized leader in place-based philanthropy and community development. Guided by values of equity, opportunity and shared stewardship, Incourage envisions a community that works well for all people. One physical manifestation of this vision is the Tribune, which demonstrates Incourage's resident-centered approach to growing a strong and inclusive local economy. To learn more, visit incouragecf.org.
---