New Teen Leaders Emerge in South Wood County Area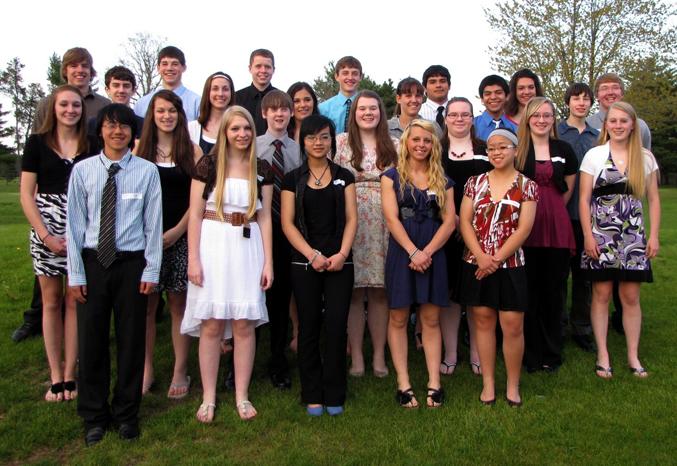 Thu. May 17, 2012
By: Caitlin Shuda, Incourage Community Foundation Communications Assistant
Incourage Community Foundation is proud to announce 25 new graduates from its South Wood County Teen Leadership program.
Teen Leadership is designed to help participating high school sophomores become involved in their schools and communities. The program teaches potential new leaders the skills and knowledge necessary to become effective community leaders.
"It's encouraging to see how far these students have come," said Dawn Vruwink, of Incourage Community Foundation. "They have developed a deeper connection to our community."
Students from five area high schools learned about leadership in a variety of ways, which includes incorporating components from Sean Covey's book, 7 Habits of Highly Effective Teens. They learned about philanthropy by reviewing grant applications and awarding a $2,000 grant to a local nonprofit that addressed teen issues. Each teen also met a community leader to learn about leadership in action. In addition, students planned and completed a community service project.
For this year's community project, teen leaders chose to promote literacy and love of reading in the area by building Little Free Libraries. These libraries are small structures similar to bird houses that hold books for all age groups. The concept is "Take a Book, Leave a Book." The idea stems from Wisconsin entrepreneur, Todd Bol, who built the first little library in Hudson, Wisconsin.
Working in the Lincoln High School Volunteer Center, Sue Zirnhelt also sees positive changes. "It's great to see students from all of the high schools get involved in the area and volunteer their time to make their community better," she said.
Here are this year's Teen Leadership 2011-2012 graduates:
Assumption High School: Brittney Birkhauser, Ashley Buntrock, Alona Taylor.
John Edwards High School: Brooke Daven, Zachary Goggins, Corey Parks.
Lincoln High School: Nate Hutnik, McKenzie Kubisiak, Katrina Lee, Arielle Lewien, David Munoz, Jenelle Raflik, Garth Schanock, Kue Thao, Cal Thomas, Ying Vang, Amber Wolfe, Shane Yach.
Nekoosa High School: Johner Allison, Gerardo Gonzalez, Sarah Peterson, Lianna Schwalenberg.
Pittsville High School: Hannah Downs, Morgan Frost, Luke Hardinger.
---