Next Tribune Meeting Set
Thu. Oct 1, 2015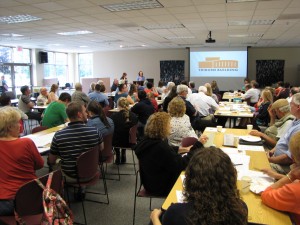 New participants welcome to learn about the community accelerator and shape future events
(Wisconsin Rapids, Wisc. – September 30, 2015) – With construction set to begin in October, progress on Incourage's Tribune Building Project in downtown Wisconsin Rapids continues. The next community meeting is set for Tuesday, October 6, at 5:30 p.m. at Renaissance Learning, 2911 Peach Street in Wisconsin Rapids.
Attendees will receive Project and community updates, learn about engagement and shared learning experiences that occurred throughout the summer, connect with neighbors who share interest in the Tribune's various program areas, and more. Participants will also be part of an activity to help shape future opportunities and learning events that complement the Tribune's anticipated use.
"We love that meeting attendees refer to the building as 'our building'," noted Corey Anfinson, of Incourage. "It really demonstrates the level of engagement that residents are investing in the Tribune. We see that engagement at every meeting and we love to have new participants bring their perspectives."
To date, more than 1,200 residents have invested more than 6,300 hours in public meetings and tours to see and discuss all aspects of the building's future use and design, including building layout, materials, art and environmentally friendly features.
However, the Tribune has always been about more than just the building. Since Incourage purchased the site in 2012 with the intent that residents would determine its use, a shared ownership and responsibility to the building, as much as the community in which it sits, has developed. That commitment to shared stewardship of the Tribune and surrounding community assets continues to grow.
"The Tribune personifies Incourage's vision of a community that works well for all people," shared Chelsey Mazurek, Incourage. "At each meeting, we've been excited to see the creativity and passion that participants bring. And we're even more encouraged by the ripple effect their interest and participation in the Tribune has within the broader community. "
The Tribune is a "community accelerator," accelerating economic growth and opportunity, environmental sustainability, learning, creativity, and connections for community benefit. The building will include a café/brewpub, creative workshop/makerspace, culinary kitchen, microbrewery, recreational rental, art studio and gallery, game room and play area, rooftop lounge, and more.
The October 6 meeting is free and all are welcome. Food and beverages are provided. Assistance with childcare and transportation is also available. For information, or to RSVP, call Incourage at 715.423.3863 or visit www.tribunebuilding.org.
Construction on the building is scheduled to begin in mid-October and continue throughout 2016, with an anticipated opening in early 2017. For regular updates, visit tribunebuilding.org, and connect with Incourage through Facebook, Twitter and YouTube.
To learn more about Incourage visit incouragecf.org or request to be added to the organization's mailing list by emailing [email protected].
# # #
Media Contacts:
Chelsey Mazurek, Communications
[email protected]
715.423.3863
Jen Perry, Communications
[email protected]
715.423.3863
About Incourage
Established in rural Wisconsin in 1994 to serve the changing needs of the south Wood County area, Incourage has become a nationally-recognized leader in place-based philanthropy and community development. Guided by values of equity, opportunity and shared stewardship, Incourage envisions a community that works well for all people. One physical manifestation of this vision is the Tribune, which demonstrates Incourage's resident-centered approach to growing a strong and inclusive local economy. To learn more, visit incouragecf.org.
---