Public invited to hear plans, participate in future of Altenburg's Farm
Wed. Jan 11, 2017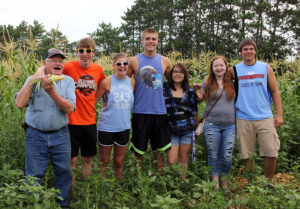 Incourage and Altenburg's holding event to seek public input, support for proposed farm school
(Wisconsin Rapids, WI, January 11, 2017) – Altenburg's Farm and Incourage invite the public to attend an event to learn more about the proposed School at Altenburg's Farm and how they can participate in its future development. The event is being held on Wednesday, January 25, 2017 starting at 6 p.m. at The Performing Arts Center of Wisconsin Rapids, located at Lincoln High School, 1801 16th Street South.
Harold Altenburg's wish is to have Altenburg's Farm continue to benefit the community beyond his lifetime. With his passion for youth and their development, his vision is to form a not-for-profit farm school. The goal of the school is to help young people develop life skills through on-farm learning; the farm will also continue to provide the products and activities the community has enjoyed for so many years.
Said Altenburg, "I've seen firsthand the positive impact the farm experience has on young people, particularly teens. I envision the farm school to be a place for kids to grow through fun, hands-on learning that will enable them to value and appreciate the role of agriculture in their lives, as a career, or as a stepping stone to whatever they choose as a career."
"But in order for all of this to happen, we need the time, talent and resources of the community," he continued.
"We are so pleased to be a part of this project," said Kelly Ryan, CEO at Incourage. "K-12 education lays the groundwork for a well-prepared workforce, and agriculture is a critical driver of our future economic growth. Harold loves this community and his vision of a synergy between agriculture and our future workforce makes him far ahead of his time."
To assist them with their efforts, Incourage has been working with a team of experts to provide input, strategize, and help in the planning and development of the farm school. Members of the team will be at event to help facilitate the discussion and answer any questions.
What will happen at the event?
Hear more from Harold Altenburg and other interested stakeholders about his vision for The School at Altenburg's Farm
Learn about the steps taken to date to make Harold's vision a reality
"Call-to-action" to the public to get involved, including timeline and opportunities to participate
Who should attend?
People who share in Harold's vision and want to ensure Altenburg's Farm remains a part of the community
Parents, teens, farmers, teachers, business and institutional leaders, elected officials
For more information and/or to RSVP, go to https://giveo.kimbia.com/altenburgspublicevent or call Incourage at 715-818-6188.
-end-
Media Contacts:
Carol Davis, Communications
Phone: 715.818.6179; Email: [email protected]
About Incourage
Established in rural Wisconsin in 1994 to serve the changing needs of the south Wood County area, Incourage has become a nationally recognized leader in place-based philanthropy and community development. Guided by values of equity, opportunity, and shared stewardship, Incourage envisions a community that works well for all people. One physical manifestation of this vision is the redevelopment of the Tribune building, which demonstrates Incourage's user-centered approach to growing a strong and inclusive local economy.
About Altenburg's Farm
Harold Altenburg and his family have been active leaders in farming and connecting the Central Wisconsin region to agriculture for over 52 years. Hosting school groups, providing work opportunities for teens, and creating lifelong memories for families have made Altenburg's Farm an annual destination and community treasure. Whether it's a visit to learn about growing fruits and vegetables, find the right pumpkin, pick-your-own strawberries, or enjoy fall activities, the farm offers a fun, engaging experience for all ages. Learn more at www.altenburgsfarm.com
---