Rudolph ornament sales support Rudolph Progress Fund
Fri. Dec 13, 2013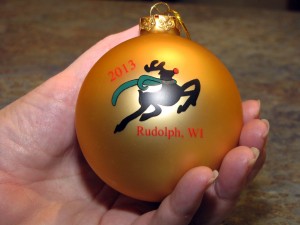 Wisconsin Rapids, WI, December 13, 2013 … Looking for a unique way to support a local community and decorate your Christmas tree? Then Rudolph's limited-edition Christmas ornament is a perfect find.
Patricia Larsen designed this year's ornament. She is the art teacher at Rudolph THINK Academy and Washington Elementary in Wisconsin Rapids. The ornament features Rudolph's namesake and Santa's favorite reindeer as a silhouette.
"I wanted a bold image of Rudolph for the design to really stand out," Larsen explained. "I decided on a reindeer flying in silhouette."
Ornaments are $10 each. All proceeds support the Rudolph Community Progress Fund, a permanent endowment fund through Incourage Community Foundation. An advisory committee made up of Rudolph-area residents, is responsible for the fund's fundraising, setting grant guidelines, accepting grant applications, and making grants for community improvement.
The fund has supported many past projects including: planters for Main Street, replacement tents for area Boy Scouts, and support for Rudolph Country Christmas events.
Purchase these ornaments at numerous area sites. Rudolph locations include: Dairy State Cheese Company, 6860 State Highway 34; Farmers & Merchant Bank, 1680 Main Street; One Stop, 6773 State Highway 34; and Pete's Meat & Locker Service, 1665 Main Street. They are also available at Amy's Outback Salon, 6953 Swetz Road, Vesper; and Prairie Sage, 1810 7th Street South, Wisconsin Rapids. For more information, visit www.incouragecf.org.
Quantities are limited, so purchase your keepsake ornament today. They make great gifts.
---