Sophomores from five area schools complete Incourage Teen Leadership Program
Thu. May 12, 2016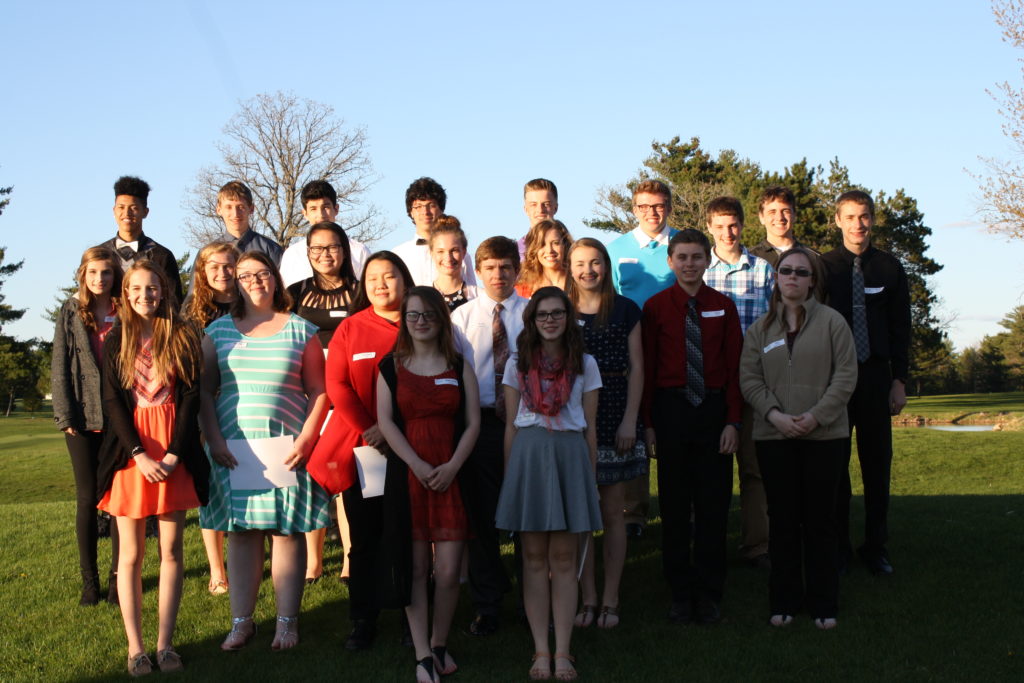 (Wisconsin Rapids, WI, May 12, 2016)  For the past nine months, 23 sophomores from Lincoln, Assumption, Nekoosa, John Edwards, and Pittsville high schools learned about leadership through Incourage's South Wood County Teen Leadership program. Increasing involvement in their schools and communities, emerging leaders graduated from the program on May 4.
Through this Incourage program, teen leaders use skills they've learned to decide, plan, and complete a community project. This year's class chose to spend a day at the Lowell Center to take part in intergenerational activities with seniors. This included writing letters to veterans, playing cribbage and Apples to Apples, painting ceramics, and building relationships through conversations. Working on the community project helped teens put their new skills and techniques in leadership and teamwork to good use. This video highlights the day's events: Teens and Seniors Bridge the Years.
"Teen Leadership was a great program that I recommend for future sophomores," said Ellie Schill of Assumption High School. "I learned that a good leader must work together with others if they hope to accomplish a goal."
The 23 area sophomores discovered many opportunities to cultivate leadership skills throughout the year. In addition to the community project, they focused on adaptive leadership through Sean Covey's book "7 Habits of Highly Effective Teens". The students learned firsthand the importance of building relationships, teamwork, collaboration, and resident engagement. They developed a better understanding of the south Wood County area and began to think about what it can mean to live in a community that works well for all people. During the program, teens spent an afternoon with area leaders, learning about ways to continue their community involvement as adults. This included learning about philanthropy and activities like grant-making. This year's teen leaders made a grant to River Cities Clubhouse, an organization that helps residents with mental health recovery. This video shows their grant's impact: Teens Help Others Cope.
The graduating teens have many more opportunities ahead of them.
"Teen Leadership opens doors for teenagers to get involved in our community," said Dawn Vruwink of Incourage. "Developing these skills and relationships will help them pursue their passions."
Graduating Teen Leaders include:
Assumption High School: Theodore Ashbeck, Payton Metcalf, Ellie Schill;
John Edwards High School: Molly Hannigan, Gavin Kniprath, Lizzie McCarville;
Lincoln High School: Sophie Feder, Joe Gilmaster, Zachary Kozlowski, Skylar Schaetz, Evan Schleisner, Michaela Schultz, Carlina Sii, Chasten Vruwink, Isaiah Westfall, Ann Yang;
Nekoosa High School: Kyle Faivre, Madilyn Fluno, Victor Hofmeister, Joel Joslin;
Pittsville High School: Tyler Dammann, Luke Denniston, Isis Ignatowski.
Teen Leadership graduates would like to extend special thanks to: Aspirus Riverview Hospitals & Clinics; American Family Insurance – Tom Schneider Agency; Bull's Eye Credit Union; City of Wisconsin Rapids – Helen's Zoo House; Family Natural Health Foods; Feldner/Ritchay Funeral Home; Great Expectations; Incourage, McMillan Memorial Library; Nekoosa Area Senior/Community Center; O'Leary Orthodontics; Opportunity Development Centers; Paper City Savings Association; Renaissance Learning; Solarus; TJ's Auto; Tri-City Curling Club; University of Wisconsin – Stevens Point; Walker Cranberry Company; Wood County Courthouse; Wood County Criminal Justice Taskforce; and YMCA Camp Alexander.
-end-
Media Contacts:
Carol Davis, Communications
Phone: 715.423.3863
About Incourage:
Established in rural Wisconsin in 1994 to serve the changing needs of the south Wood County area, Incourage has become a nationally-recognized leader in place-based philanthropy and community development. Guided by values of equity, opportunity, and shared stewardship, Incourage envisions a community that works well for all people. One physical manifestation of this vision is the Tribune, which demonstrates Incourage's resident-centered approach to growing a strong and inclusive local economy. To learn more, visit incouragecf.org.
---