Teen Fireworks wins Community Spirit Award
Thu. Feb 18, 2016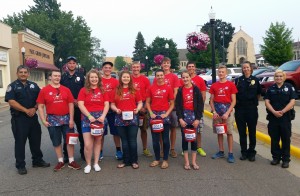 (Wisconsin Rapids, WI, February 18, 2016) – The Teen Fireworks Committee was recently honored with Heart of Wisconsin Chamber of Commerce's Community Spirit Award at the Chamber's Annual Meeting. With the community's support, this committee has raised funds for Wisconsin Rapids' 4th of July fireworks since 2006.
The Teen Fireworks Committee's work – organized and facilitated by Incourage – is a collaborative effort with area municipalities, businesses, organizations and individuals contributing. The group is made up of teens from four area high schools: Assumption, Lincoln, Nekoosa and Port Edwards.
"It means a lot to me personally, because I'm the third in the Crider family to be part of Teen Fireworks," said committee member Emily Crider, a senior at Nekoosa High School. "My brothers, Micah and Ty joined because going to the 4th of July fireworks was such a great family tradition for us and we wanted to see it continue."
Incourage continues to facilitate the Teen Fireworks Committee to help area youth develop leadership skills and reach out to area municipalities, businesses, organizations and individuals for their support. In 2006, the committee made presentations and asked area municipalities for support. By doing this, teens gained valuable experience in understanding local governmental systems. Each year, the Teen Fireworks Committee reaches out to hundreds of businesses and individuals who continue to generously support the fireworks. Teens also raise funds through cotton candy sold at their cotton candy stand on the 4th, as well as at Rafters games throughout the summer.
Last year, Teen Fireworks raised over $18,000 for the fireworks show. Since 2006, 46 teens have been part of the committee, raising a total of more than $200,000. This year, the group is currently about $10,000 short of their 2016 goal of $18,000. Businesses, organizations, municipalities and individuals are all encouraged to contribute to help keep the community's spectacular 4th of July fireworks going! Donate online at incouragecf.org/give or send contributions to the Community Fireworks Fund at Incourage, 478 E. Grand Ave., Wis. Rapids, WI 54494.
-end-
Media Contacts:
Carol Davis, Communications
Phone: 715.423.3863
About Incourage:
Established in rural Wisconsin in 1994 to serve the changing needs of the south Wood County area, Incourage has become a nationally-recognized leader in place-based philanthropy and community development. Guided by values of equity, opportunity, and shared stewardship, Incourage envisions a community that works well for all people. One physical manifestation of this vision is the Tribune, which demonstrates Incourage's resident-centered approach to growing a strong and inclusive local economy. To learn more, visit incouragecf.org.
---