Tribune Building Project On Target
Thu. Apr 23, 2015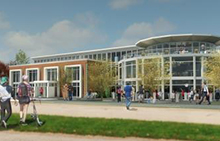 Incourage announces significant developments as resident engagement deepens and national interest in the Tribune increases
Wisconsin Rapids, Wisc. – April 23, 2015 – Today, Incourage a recognized leader in place-based philanthropy and community development, revealed detailed site designs for the Tribune Building Project and announced the construction management firm selected to facilitate construction.
Launched in Fall 2013, following Incourage's purchase of a historic building in downtown Wisconsin Rapids, the Tribune has become far more than a site redevelopment project. It is creating new levels of resident engagement in the rural Wisconsin community. As Incourage had intended at purchase, to date more than 750 residents have contributed over 5,000 hours to determine the Tribune's future use.
"The Tribune is a significant, physical manifestation of Incourage's vision of a community that works well for all people," shared Kelly Ryan, president and CEO, Incourage. "Working together, residents of all ages, businesses, and elected officials are collaborating in new and meaningful ways to shape our shared future. A movement is truly underway."
Through Incourage's  resident-centered approach to growing a strong and inclusive local economy, it has been determined that the Tribune's 20,000 square foot space will include a cafe/brewpub, creative workshop/makerspace, culinary kitchen, microbrewery, recreational rental, art studio and gallery, game room and play area, rooftop lounge, meeting spaces, and additional flexible space. While the Tribune's space has been determined, residents continue to gather and deepen their connections around these interest areas.
Concordia, the renowned architectural design and community planning firm hired by Incourage to facilitate the Tribune's design process, has observed this evolution from individual interests to collective input and shared vision. With the Tribune, Concordia shared their unique expertise in community participation and integration, and acknowledge this culture shift's distinctiveness in relation to other projects across the country.
"This project embodies the unique character of this community," noted Graham Hill, architect and senior project manager, Concordia. "Even if we had started with a blank slate, and were given the liberty to design anything we wanted, we could have never created a building as beautiful as this. The result is wholly representative of the residents' shared vision."
With construction scheduled to begin on the Tribune by Fall 2015, Incourage selected J.H. Findorff & Son, Inc. as the Project's construction management firm.
Based in Madison, Wisconsin, Findorff consistently surpasses industry recycling standards and has constructed dozens of LEED-certified facilities. They are an active member of the Wisconsin Green Building Alliance and U.S. Green Building Council on construction projects and were voted Environmentalist of the Year by Wisconsin Builder. As Incourage pursues LEED certification, specifically Gold level, selecting a construction management firm with this expertise was critical.
"Findorff's level of sophistication and track record of delivering high-level LEED facilities was impressive," explained Kristopher Gasch, board chair, Incourage. "And yet, as important to us was Findorff's alignment with Incourage's values, and their ability and commitment to work with us to engage local subcontractors."
The construction manager Request For Proposal process was a unique process that many potential candidates expressed having not previously experienced. The full RFP can be viewed at tribunebuilding.org/resources.
"We are very excited to be chosen as the construction manager for the Tribune Building. We see this as much more than the bricks and mortar that will go into reclaiming an iconic building," stated Dave Beck-Engel, president, Findorff. "This project will be an important part of the revitalization of downtown Wisconsin Rapids. Having been involved in projects like this in the past we understand how important this project is for the community of Wisconsin Rapids and we are grateful to be part of it."
Findorff's project manager, Nathan Hiles, is a Wisconsin Rapids native who added, "This is going to be an amazing project for the Wisconsin Rapids community and being able to come back home and be part of something that is going to make a lasting contribution to the area is beyond exciting for me."
In conjunction with the announcement of Findorff, Concordia revealed the Tribune's detailed design. To view a video of the designs and download a summary of the process to arrive at these designs, visit tribunebuilding.org/resources. Click on the Design Document link dated April 22, 2015.
The Tribune is expected to open in Fall 2016. For regular updates on the Tribune, visit tribunebuilding.org, and connect with Incourage through Facebook, Twitter and YouTube.
To learn more about Incourage visit incouragecf.org or request to be added to the organization's mailing list by emailing [email protected]
About Incourage
Established in rural Wisconsin in 1994 to serve the changing needs of the south Wood County area, Incourage has become a nationally-recognized leader in place-based philanthropy and community development. Guided by values of equity, opportunity and shared stewardship, Incourage envisions a community that works well for all people. One physical manifestation of this vision is the Tribune, which demonstrates Incourage's resident-centered approach to growing a strong and inclusive local economy. To learn more, visit incouragecf.org.
About J.H. Findorff
Findorff is one of the Midwest's leading builders with offices in Madison and Milwaukee. Founded in 1890, the Company is celebrating its 125th anniversary in 2015. Findorff currently employs an average of 700 construction professionals and tradespeople, and completes over $425 million in construction annually. For more information, please visit www.findorff.com and www.findorff125.com
About Concordia
Concordia is a nationally recognized planning and design firm located in New Orleans, Louisians. Their work emphasizes a process of community participation and integration. The product of the process is an increased awareness of issues and agreement on solutions that meet the needs of diverse constituencies. www.concordia.com
---