October Morning Magazine with Kristopher Gasch & Kyle Kearns
Wed. Oct 13, 2021
Kristopher Gasch, Incourage board chair, was pleased to invite Kyle Kearns, City of Wisconsin Rapids Director of Community Development, to follow up on their discussion that began in August with WFHR Morning Magazine Host James Malouf.
Kyle sp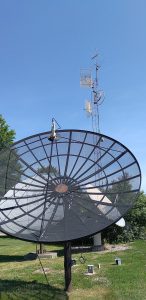 oke about Economic Development data and efforts taking place in the City. He provided an update on the Papermill Recovery and Redevelopment Plan, noting that the City's grant application to EDA was successful. The mill is the Plan's primary focus, but it includes underutilized areas surrounding the mill. Whatever happens to those parcels may be a catalyst to the mill's redevelopment. Kristopher shared that Incourage has been looking at our work in light of a changing paper industry. The industry is changing globally. Demand is increasing, but for a different kind of product than was being produced locally. As Kristopher said, "Our community is worth investing in." We wholeheartedly agree! The question is: What does support for innovation and entrepreneurship look like in light of a drastically changing industry that is so core to our community?
The City's Wayfinding Sign Project is moving forward. Detailed signs are planned for the downtown area, with large trailhead signs and pedestrian kiosks placed along existing trails. These signs will transect through the City to the Villages and Towns surrounding Wisconsin Rapids.
Looking ahead to 2022, Kyle shared that the City has approved additions to several area schools for the spring and is reviewing other potential projects. Although much of this information is under wraps, he was able to share that some existing businesses are looking to expand, and that they are thinking creatively, working with individuals in the private sector to make use of larger vacant businesses.
Both Kristopher and Kyle shared their appreciation for each other, other organizations, our community and its residents. Paraphrasing Kristopher, "We're in this together. In the face of some of the most challenging times, we've seen entities come together and work towards the same goal." He's grateful for our partnership with the City and everyone that comes to Incourage – donors and those seeking guidance. Kyle applauded the philanthropic efforts from the community. He shared that when you're able to stack donations with other funding, the City and residents benefit.
Tune in!
---