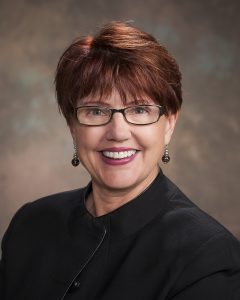 Dr. Susan Turney, CEO – Marshfield Clinic Health System
Dr. Susan L. Turney is the CEO of Marshfield Clinic Health System (MCHS), taking on that role September 1, 2014. Through its entities, MCHS provides patient care, research, education, health care technology and health insurance for Wisconsin and beyond.
She is recognized as a national thought leader in health care and expert in strategic planning, executive management and external relations. She is sought out as a speaker by national organizations to discuss the business of this industry and is a member of the Modern Healthcare CEO Power Panel, including representatives of the nation's largest hospital, physician practice, insurer, trade association and think tank organizations. She was named to Modern Healthcare's list of 50 Most Influential Physician/Clinical Executives from 2012-2016, 2018, 2019, and on its list of 100 Most Influential People in Healthcare in 2012- 2014. Dr. Turney received the Wisconsin Medical Society's Directors Award in 2017. She was named to Becker's Hospital Review's list of 27 Female Physician Executives to know in 2018 and named Distinguished Leader by MGMA-ACMPE in 2018. Dr. Turney was named to Becker's Hospital Review's list of 105 Physician Leaders to Know in 2019.
Prior to her current MCHS position, Dr. Turney was President and CEO, Medical Group Management Association (MGMA), the leading association for medical group practice administrators and executives, from 2011-14. She was CEO and Executive VP of the Wisconsin Medical Society from 2004-11. She is a Fellow in the American College of Medical Practice Executives (FACMPE), having earned that distinction in 2005.
For 22 years, from 1982-2004, Dr. Turney was an internal medicine physician at Marshfield Clinic, serving in education and leadership roles and as medical director for Patient Financial Services from 1995 to 2004.
Dr. Turney, a native of Mellen, Wisconsin, graduated from Northland College, Ashland, Wisconsin; and the University of Wisconsin-Madison School of Medicine and Public Health. She completed her internal medicine residency at Marshfield Clinic/Ministry Saint Joseph's Hospital, Marshfield, Wisconsin, and earned a masters degree in administrative medicine from UW-Madison.
In October 2019, Dr. Turney began sharing her talent in yet another important role as a founding member of the Tribune Steering Committee. Following is a recent conversation we had with Dr. Turney that highlights her commitment to rural communities and invites an understanding of how her unique perspective will enhance the Tribune's future. On behalf of Incourage, Tribune and the central Wisconsin region, welcome Dr. Turney:
What aspect of the Tribune project most inspired you to become involved as a founding member of the Steering Committee? And why?
I loved the fact that the project was shaped by the input of Wisconsin Rapids residents. They told us what was needed and wanted, and that input is driving this project.
We also know that to keep people and communities healthy requires health systems to reach outside their own walls and invest directly in communities. The Tribune Project will be an opportunity to impact the strength of the local workforce, increase economic development opportunities, and it will be a place for community members to connect and socialize.
What priority opportunities do you see for the project at this moment in time? At the end of your first year as a founding member of the Steering Committee, what will success look and feel like for the Tribune?
There are so many opportunities, and that will be the fun part of this project. Really what I want to focus on is forward momentum and continuing to work with project partners and the community to make this vision come fully to life.
What do you hope the Tribune will inspire in others?
I hope it inspires a sense of hope that great things are possible when we come together for the greater good of our communities. I think this project will show Rapids and other communities what is possible when people come together on something they share a mutual passion for.
Marshfield Clinic is the largest provider of rural healthcare in the nation. Can you please help readers, many of whom are fortunate to have you as a provider, understand what this means to rural prosperity?
In America today, many rural health care providers are struggling. This has led to the closure of medical facilities in rural communities across the country. When medical facilities leave rural communities, the impacts are many. People are left longer distances from health care, which can be catastrophic in an emergency situation. But also, health care facilities are often the largest employers in small towns, and when they close their doors, the job loss can devastate local economies.
Marshfield Clinic Health System has made a commitment to invest in our rural communities because we believe in the rural way of life, and we know our communities need and deserve access to excellent health care.
Marshfield Clinic is deeply committed to the health of communities throughout our region and the people who live here. How do you see the Tribune contributing to the health and well-being of individuals who live and visit the region? Can the Tribune serve as a model to instigate projects with aspects similar to Tribune in other communities where Marshfield Clinic operates? If so, how?
I certainly think the Tribune project has the potential to serve as a model for other communities. Similarly, we recently invested in a major renovation of our YMCA in Marshfield to enhance exercise facilities, but also to build in more community services and opportunities for people to connect. While not exactly the same model, I think the Tribune project is similar to the YMCA project in that it will be a place for residents to gather, access needed resources and socialize.