Bernie Patterson, Chancellor, University of Wisconsin – Stevens Point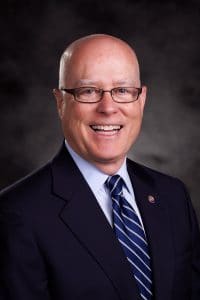 Bernie L. Patterson is the 14th chancellor of the University of Wisconsin-Stevens Point. During Bernie's tenure, which began in July 2010, UW-Stevens Point developed a campus wide strategic plan to guide the university's academic programming and operations. A vision for the university has been articulated as 'A Partnership for Thriving Communities'. It provides the framework through which the university is more engaged with area stakeholders, more responsive to local needs and more relevant to solving regional problems. The university has strengthened its ties within the local and regional communities. As well, UW-Stevens Point's advancement function has been significantly reorganized and made more robust and is on pace to exceed its objective by 20 percent.
Bernie's career of service to higher education has included leadership in both public and private university settings. His professional activities include the Institute for Educational Management at Harvard University, a Wye Faculty Fellowship at the Aspen Institute, and a Fulbright tour in Tanzania, in 1992. He has led or participated in international delegations to Belize, the Czech Republic, the People's Republic of China, the Republic of Hungary, the Republic of Ukraine, Slovakia, the United Kingdom, the United Republic of Tanzania, and Taiwan. He serves on the boards of directors for Marshfield Clinic System and Worzalla Publishing Company, and the Associated Bank North Central Advisory Board.
Bernie holds a Ph.D. and a Master of Arts in criminology from State University of New York at Albany, an Education Specialist degree and a Master of Science from the University of Central Missouri, and a Bachelor of Science in Technology from Missouri Western State University. He resides in Plover, Wisconsin.
In October 2019, Bernie began sharing his talent in yet another important role as a founding member of the Tribune Steering Committee. Following is a recent conversation we had with Bernie that highlights his commitment to the people and institutions who share this place and invites an understanding of how his unique perspective will enhance the Tribune's future. On behalf of Incourage, Tribune and the central Wisconsin region, welcome Bernie:
What aspect of the Tribune project most inspired you to become involved as a founding member of the Steering Committee? And why?
The Tribune building can achieve something that has the potential to be a model for our state and nation – a place to transcend traditional, rigid, institutional boundaries and co-create with a focus on tackling the region's most important issues.
What priority opportunities do you see for the project at this moment in time? At the end of your first year as a founding member of the Steering Committee, what will success look and feel like for the Tribune?
Priority one is to secure the needed funding to remodel the building and begin inviting the community in to engage, create and learn together. After the first year, I see success as community members leaving the Tribune building filled with new ideas and renewed confidence in what is achievable for them personally, as well as increased pride for the community in which they live and work.
What do you hope the Tribune will inspire in others?
The desire to come together and bounce ideas off of one another. Inspiration for everyone to try different things and not be afraid to think differently. I also hope to see everyone feeling an increased sense of belonging – an excitement to be a part of something greater than what they could achieve alone.
UW-Stevens Point's strategic plan aims to create healthy, vibrant, prosperous and sustainable communities. How do you see the Tribune supporting this plan and in turn, how can future students (and families of future students) support the plan through the Tribune?
We have an opportunity to bring University expertise to co-create with the community. Our faculty, staff and students can build impactful experiences alongside business and community members with projects and research that are directly relevant to area industry and the community. We will continue to listen with a goal of understanding how to be of service to Wisconsin Rapids, Wood County, and the region as the project evolves.
Ever focused on the future while managing the present moment, can you speak to how institutional partners could experience disruption and transformation through the Tribune?
Institutions are typically bound to their mission and resources within their institutional walls. When you bring those institutions together, and out of the disruption and transformation of usual practices, new and better outcomes can be created by the continued pursuit of their shared values and goals. Instead of duplication of efforts, we can achieve aligned and collaborative success with an invigorated commitment to the people we serve.
You moved to Wisconsin for this professional role. In your time here, what have you valued most about the region?
This is an easy one. It's the sincerity and warmth of the people (not the winters) in Wisconsin. This is a wonderful place to live, work and raise a family.