Welcome to Dove's Nest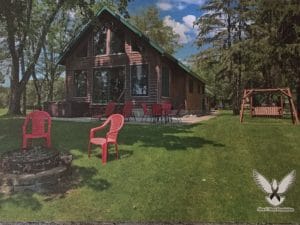 About 11 months ago, Alex and Chad Dove were up at the family cabin in Northern Wisconsin. The first night there, Alex commented while he was standing by the campfire at water's edge, "Dad, this is so relaxing." That was when the idea of Dove's Nest – a free, lakeside respite retreat for families experiencing the challenges of a loved one with a life-threatening illness – was created.
Alex wanted a place for others who are going through a terminal illness – a place to forget about all of life's struggles, a place to gather with family and friends and simply enjoy the moment. Alex passed away on March 3, 2019.
On August 7, 2019, the Alex C. Dove Foundation closed on the first Dove's Nest retreat on Lake Camelot in Rome, Wisconsin. What started out as one young man's mission has come to be, with the support of over 1,000 donors like you. The outpouring of support from the central Wisconsin community and our extended friends around the country have been nothing short of spectacular, amazing and unbelievable.
Alex C. Dove Foundation is still working to complete the initial goal of $750,000. You can donate financially online at www.incouragecf.org/give. Or mail your contribution to Alex C. Dove Foundation, 257 Palisades Court, Nekoosa, WI 54457. Volunteers are also needed to help with Dove's Nest efforts. To help, contact Chad Dove at 715-421-9334 or Becky Dove at 715-459-1406. Keep an eye out for further updates about Dove's Nest's opening and coming fundraisers. Follow their progress by liking us on Facebook: Alex C. Dove Foundation.
Dove's Nest is the first respite retreat of its kind in the Midwest. Thank you for giving families a place to relax and rest in the beautiful Lakes Area. But most importantly, thank you for bringing Alex's dream to life.