Resident Profile - Dr. Missy Skurzewski-Servant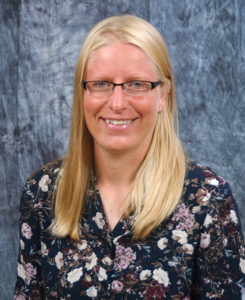 Growing up in a bigger city like Milwaukee, Dr. Missy Skurzewski-Servant never realized how engaging and fun it is to be a part of events and projects within a more rural setting.
Since moving to central Wisconsin, Missy has engaged with more and more people who are passionate about this community and its development. Through her role as Dean of Business and Economics at Mid-State Technical College, she has participated in events such as the Marshfield Parade, Central Wisconsin State Fair, Mid-State Night and Free Tuition Tuesdays at Rafters games, and HATCH as a judge. She is also a member of the South Wood County Health Collaborative Committee and Women United through United Way of Inner Wisconsin.
Missy has also participated in several Tribune Building Project meetings to learn more about the project, interact with fellow community members, and provide input into the planning from the perspective of someone who works in higher education. "It is vital for individuals like myself to contribute input to projects related to community and economic development from the higher learning perspective," Missy shared.
For Missy, the Tribune process is exciting and energizing. Each meeting has been filled with discussion surrounding opportunities for development, encouragement of creative thinking, and a focus on the future ahead stemming from forward and innovative thinking. "Through participation in the Tribune meetings, I have witnessed the power of collaboration among community members as a key factor in developing an idea into a reality."
Missy has a deep passion for entrepreneurship, and has learned that the Wisconsin Rapids area includes amazing businesses and business owners, as well as opportunity to grow that pool of small business ownership. In her role at MSTC, she has helped lead the development of an Entrepreneurship Continuing Education Series designed to help individuals learn how to successfully start, grow and sustain a small business. They will learn directly from business owners, community leaders, and Mid-State instructors in this series of two-hour classes offered Saturday mornings September through May.
One of Missy's greatest hopes for our community is staying focused on its readiness for growth, and believing that the future is full of exciting and promising developments. She encourages people to engage in the development of their community and recognize the vital impact they have. "In order to achieve goals, there needs to be the belief that an individual or group is capable of attaining those goals."
---