Resident Profile - Richard Breen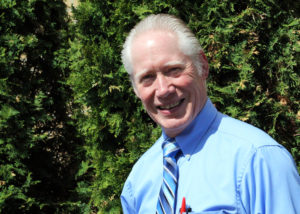 Richard D. Breen's hope for our community is to build a more diverse and robust economic base filled with innovation, art and strong community connections. Through Richard's work, he's turning hope into results.
"When I was invited to participate with Incourage's Business Education Alliance several years ago, that really inspired me to try to do more," Richard recalled.
The Business Education Alliance brings together area businesses and public and private schools. Its goal is to narrow the skills gap, specifically in STEM (Science, Technology, Engineering, and Math), and create greater awareness of local family-sustaining career opportunities. "It made me more aware of businesses' common needs and how educators can support those needs," he said.
Richard, who works as an adjunct electronics instructor at Mid-State Technical College's Wisconsin Rapids campus, explained, "The Alliance has allowed me to get more involved with many of the members to work directly on education issues at Mid-State's and through work with the Central Wisconsin STEM Academy in Nekoosa," he said.
Richard has also been involved with Incourage through the Community Picnic, STEM Scouts, and Tribune Building Project, and serves on the What If Grant Resident Review Committee. And you may have seen him at past Community Picnics with monarch butterflies.
Through participating in these projects and activities Richard has learned, "There are a lot more interesting things going on in the community than I had any awareness of. There are wonderful people working hard to make the community better in all kinds of ways. The things that unite us as a community are bigger and more plentiful than things that could divide us."
For Richard, "Life is most fun and rewarding when you do something with, and for, others. The more I share myself with others, the more I enjoy life."
And he encourages others to get involved. "If you like monarch butterflies, we are looking for people who want to help with our Tribune Building fundraising project," he said. "If you're interested in education, we are looking for volunteers to be involved with the Central Wisconsin STEM Academy in Nekoosa as Council members and outside experts to support our students. Email me!"
---