Incourage honors departing CEO
Thu. Oct 24, 2019
Incourage honors departing CEO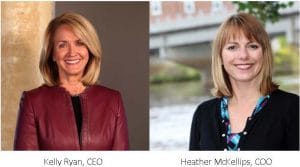 Today, Incourage (incouragecf.org) celebrates the many accomplishments achieved under the leadership of Kelly Ryan, CEO, in advance of her forthcoming departure on October 31.
After more than 20 years as Incourage's President and CEO, Ryan will be transitioning into a fellowship with the F.B. Heron Foundation. Ryan will remain active in Wisconsin, as a member of Governor Ever's Committee on Entrepreneurship & Innovation through Wisconsin Economic Development Corporation, and through 2019, as an advisor to the Tribune Steering Committee.
On November 1, Heather McKellips, Incourage's Chief Operating Officer, will assume the role of interim CEO until a new CEO is named.
Incourage's top leader since 1997, Ryan transformed the former Community Foundation of South Wood County from a traditional charitable giving entity into the nationally recognized philanthropy focused on adaptive rural economic development that it is today. Ryan operationalized a values-centered framework, formally integrating the core principles of equity, opportunity, and shared stewardship into governance, strategy and management activities. For a deeper reflection on these efforts, read the recently published Framing Direction. The organizational timeline on IncourageCF.org provides additional milestones achieved under Kelly's leadership.
"The ways in which Kelly has shaped and guided Incourage to become this nationally respected organization are innumerable, and her vision and perseverance have sparked so many community assets that will be valued for years to come," expressed Incourage Board Chair Kristopher Gasch. "Kelly consistently takes a long-term approach, always with a lens of broad community benefit. I'm personally grateful for the opportunity to work alongside and learn from her."
"It has been a privilege and an opportunity to serve as Incourage CEO. This experience has helped to shape and inform who I am as a human being and I'm forever grateful to the people who've shared in the experience," Ryan expressed.
"As I move into a fellowship with the Heron Foundation, I look forward to sharing what I've learned from this community with a larger audience while continuing to bring attention to this region's ingenuity and commitment to resident-led change," she added.
One such example is the Tribune building redevelopment. Following the State of Wisconsin's $3 million commitment, announced July 19, and creation of the Tribune Steering Committee earlier this month, enthusiasm for the Tribune Building Project remains high. The Tribune is a community led, public-private partnership to transform a historic landmark in the heart of Wisconsin Rapids into an economic and community hub that serves as a laboratory for collaboration and innovation in the region. To learn more about the Tribune Building Project or Incourage visit incouragecf.org and like @IncourageCF on Facebook.
---