Public learns about future of Altenburg's Farm
Fri. Feb 3, 2017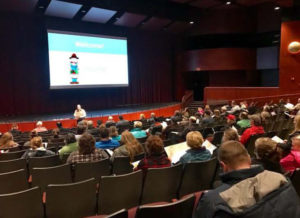 (Wisconsin Rapids, Wis., February 3, 2017) — At the public meeting regarding the proposed School at Altenburg's Farm last week, over 130 attendees learned about the immediate need for a Lead Farmer, Board of Directors, and fundraising. They also heard support from Dan Smith of the Wisconsin Department of Agriculture, Trade and Consumer Protection, and learned that Incourage will provide a matching grant opportunity to help raise $75,000 for The School's initial start-up costs.
Harold Altenburg's wish to have Altenburg's Farm continue to benefit the community beyond his lifetime. His vision is a non-profit farm school to help young people develop life skills through on-farm learning. The farm will also continue to provide the products and activities the community has enjoyed for so many years.
Harold said, "When you plant seeds in rich soil and carefully cultivate them, they grow into strong, healthy plants. Imagine doing the same for young people – by providing them with a rich environment in which to learn and cultivate their talents, you will help them grow into healthy, contributing members of society."
From now until June 30, 2017, Incourage will match contributions up to $25,000 to The School at Altenburg's Farm through the Ruth B. and Hartley B. Barker Memorial Fund for Youth. This will be to support start-up expenses for The School to develop ag-related life skills. To contribute to The School at Altenburg's Farm, go to https://incouragecf.org/give/give-online/.
"Ruth and Hartley loved young people, they loved education, and they also really felt an obligation to think about how to help grow our local economy," said Kelly Ryan, Incourage CEO, of Ruth and Hartley Barker.
Attendees also filled out an Interest Card (available here: http://bit.ly/2kNXShC) to indicate how they could offer support.
There will be another public meeting on Wednesday, February 8 at 6 p.m., at the Wisconsin Rapids Performing Arts Center. It will focus on finding individuals to fill the Lead Farmer position and Board of Directors, as well as the budget. For more information and/or to RSVP, email [email protected] or call Incourage at 715-818-6188.
For a job description of the Lead Farmer and to view ways you can help, visit https://incouragecf.org/lead/school-altenburgs-farm/. To watch the entire January 25 meeting, visit https://www.youtube.com/watch?v=i7RTPsDCYqg.
-end-
Media Contact:
Carol Davis, Communications
Phone: 715.818.6179; Email: [email protected]
About Incourage
Established in rural Wisconsin in 1994 to serve the changing needs of the south Wood County area, Incourage has become a nationally recognized leader in place-based philanthropy and community development. Guided by values of equity, opportunity, and shared stewardship, Incourage envisions a community that works well for all people. One physical manifestation of this vision is the redevelopment of the Tribune building, which demonstrates Incourage's user-centered approach to growing a strong and inclusive local economy.
About Altenburg's Farm
Harold Altenburg and his family have been active leaders in farming and connecting the Central Wisconsin region to agriculture for over 52 years. Hosting school groups, providing work opportunities for teens, and creating lifelong memories for families have made Altenburg's Farm an annual destination and community treasure. Whether it's a visit to learn about growing fruits and vegetables, find the right pumpkin, pick-your-own strawberries, or enjoy fall activities, the farm offers a fun, engaging experience for all ages. To learn more about Altenburg's go to http://www.altenburgsfarm.com/
---