Resident Profile - Hannah & Gracie Wendels
"Don't give up on your hometown!"
This is the outlook of Kellner residents Hannah and Gracie Wendels. One of the ways they invest in their hometown is through volunteering at the Community Picnic – three years in a row! Hannah and Gracie found both a new understanding about the people in our area, and how great things happen when everyone works together. "It was wonderful to witness so many people from all over our community coming together and helping make the day a success for all ages," they shared. "It is most rewarding and a blast to be around so many wonderful people."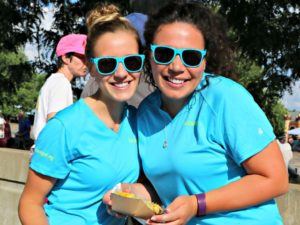 Gracie, a senior at Assumption High School, said it felt great to give of her time through volunteering. "It was fun to see people that I know, and meet new friends." After seeing the successful results that come from so many people working together, both agreed that they would definitely help in other areas. Hannah, a student at the University of Wisconsin-Stevens Point, is excited to use her new volunteer knowledge and ideas gained at her college home in the future.
Aside from volunteering at the Picnic, there are multiple ways the sisters have been involved in their hometown. If you've participated in soccer in Wisconsin Rapids within the past 15 or so years, chances are you've encountered Gracie or Hannah – or both! If not playing or coaching soccer, or mentoring young athletes, perhaps you've seen them volunteering at The Neighborhood Table, Make a Difference Day, or the Boys and Girls Club.
Gracie and Hannah hope to see their hometown grow and thrive for generations to come, and they look forward to being a part of it all.
Invest in your community by getting involved – visit our Events page for details.
---