Resident Profile - Katrina, Stephen, & Zanna Hittner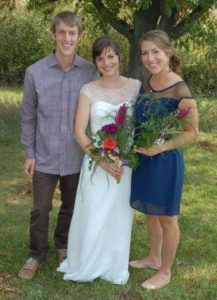 Growing up, Stephen, Katrina, and Zanna Hittner's values were heavily influenced by their parent's community involvement. As kids, they joined their dad at many of the community meetings he participated in, and learned first-hand the impact of community engagement. These experiences shaped their own participation within our community, as they learned that no matter your age, you can make a positive difference in your community.
As a member of the Board of Directors for Central Rivers Farmshed, Stephen participated in Blueprints for Tomorrow, led by Incourage. Throughout the experience, Stephen not only learned economic development practices; he developed connections and personal relationships with individuals in the community as well.
Stephen witnessed how easy it is to instigate change, noting "Throughout Blueprints, we worked on utilizing and leveraging community resources and capitalizing on collaborative opportunities; this inspired me to pursue a project with Great Expectations and our family business, Family Natural Foods." Soup and salad are now offered at Family Natural Foods on Tuesdays and Thursdays, catered by the creative team at Great Expectations. "This partnership truly puts into practice the idea of networking and identifying community partnerships that are mutually beneficial," Stephen shared.
Zanna spent a great deal of time outside of the community, as studies and other work experiences took her across the globe. She had the pleasure of observing the Tribune Building Project from afar over the past couple years. "I studied Community Development in graduate school, so was always eager to see what projects were on the horizon in south Wood County," she said. "In fact, anytime I came home for a visit, I made it a priority to attend a Tribune meeting."
Zanna returned to the central Wisconsin area earlier this year, and wasted no time in getting engaged. Her current involvement in the community includes working on the proposal, development, and implementation of an outdoor fitness park in Wisconsin Rapids. "This has been a great opportunity for me to reengage with the community, learn about local government, and utilize my skill set," she said. Zanna believes that if residents are informed and willing to become engaged, there is unlimited potential for the Wisconsin Rapids area.
In reflection, Katrina believes one of the best decisions she's made was accepting the Community Fellow position at the beginning of the Tribune Building Project. The individuals Katrina connected with made her feel excited to be a part of her hometown. She believes the Hittner siblings' involvement with Incourage has influenced the way they choose to operate their business. The skills Katrina gained throughout the Tribune process are utilized by prioritizing inclusive communication methods and thinking outside the box to come up with creative solutions. "My experience with Incourage helped me recognize the importance of being involved in our community, and has given me a greater sense of place and purpose," Katrina expressed.
"Our hope for the community is that others will realize that they have the ability to shape the future they desire for the place we call home. If you have an idea, share it, act on it, and follow through with it. Be involved."
Stephen Hittner, Wisconsin Rapids WI, Co-owner Family Natural Foods
Zanna Hittner, Stevens Point WI, University of Wisconsin-Stevens Point International Admissions Specialist
Katrina Hittner, Stevens Point WI, Co-owner Family Natural Foods, Husband Jason Wendt
---